Singapore Health Services
Digital Healthcare Solutions
Building tomorrow's heath-care system, keeping patients at the heart of all we do.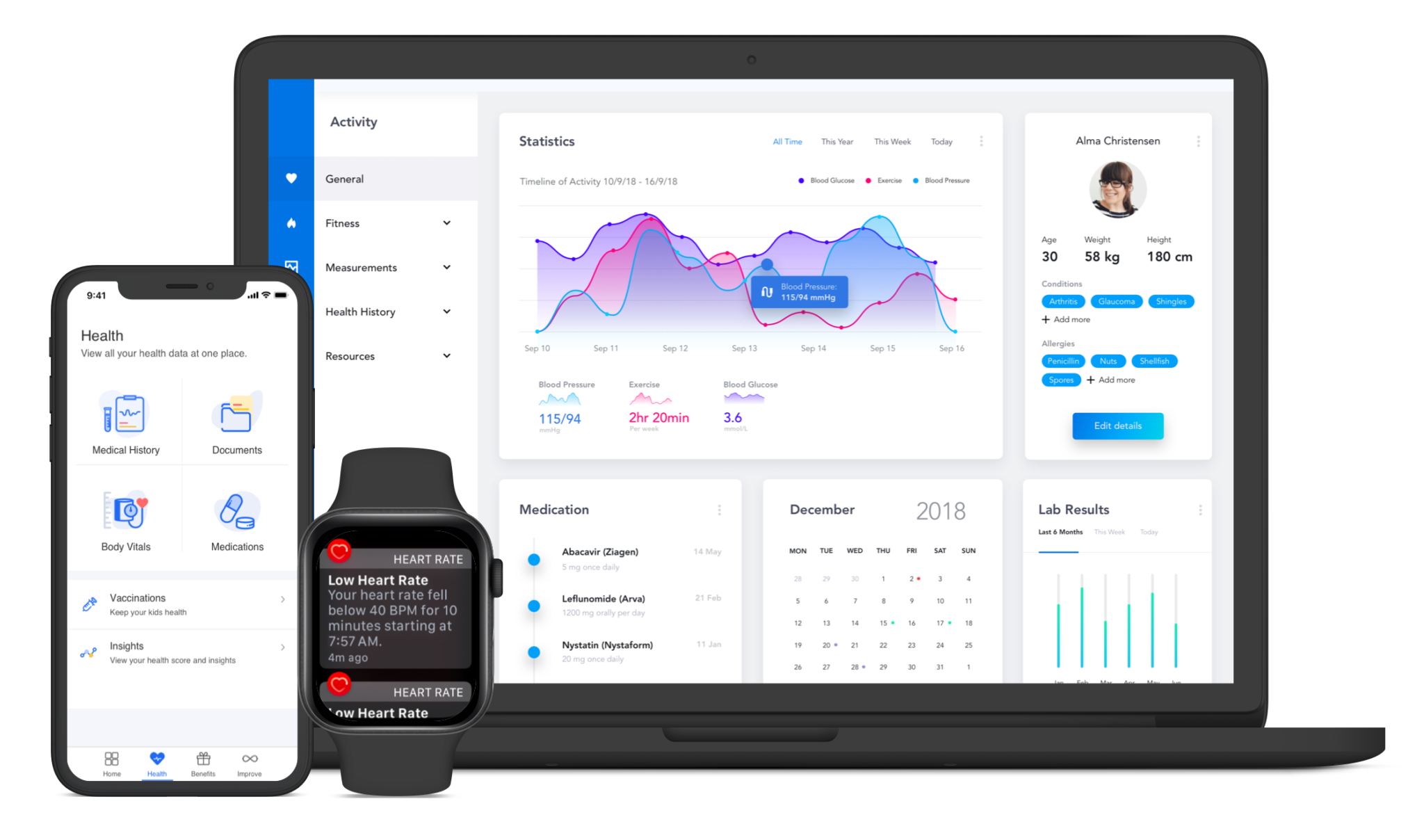 Technology & Healthcare: Working together to provide better care
The future of healthcare is shaping up in front of our very eyes. Here at Buuuk, we create digital healthcare solutions to help first responders, medical teams and management provide better care for patients.
With 12 years' experience building world-class smart systems, we craft effective yet simple-to-use apps for all stakeholders.
Insights revealing the actual needs of digital solutions in healthcare industry
Digital Quotient scores by industry1, global, points (out of 100)
¹MCKINSEY REPORT 2019
1. Healthcare industry has been a laggard in Digital Transformation
Compared to other sectors (telecom, retail, or travel), when it comes to digitisation and applying smart systems, the healthcare industry has lagged behind significantly.
2. More than 75% of all patients expect to use digital services in the future.

Patients of all ages are interested in using digital services and products. Older patients, however, still prefer using traditional digital channels and processes.

3. Swift Communication Saves Lives

Less time spent on paperwork and queuing means more attention and better care for the patients. Swift communication and information during emergency situations via text, voice recordings, images and videos gives a complete picture of the emergency and helps save lives.

4. Services that Singaporeans patients request the most shows its not necessary to start big

Patients expect more core features to be incorporated for greater efficiency, such as access to information online, online appointment booking, the ability to retrieve reports online and receive online consultations for reports.

5. Operational Efficiency and Cost Reduction

Developing technology can enable increased productivity, reduced costs, and result in world class health and social care. Increased automation can also help to address staff shortages, as it frees healthcare professionals from more repetitive tasks and allows them to focus on patient care.
Application of Tech in Healthcare
The integration of modern technologies in healthcare has led to an improvement in medical care, empowerment of patients, and the maximum value creation of all stakeholders. Here are some ways we can help your organisation develop custom digital healthcare solutions for better patient care and experience.

01

Digitization of Health Records

An Electronic Medical Record or an Electronic Health Records (EHR) is a digital summary of a patient's medical information. They allow for information sharing and collaboration between clinics, hospitals and doctors with minimum effort and time. They also support forecasts of diseases and how patients will respond to them, as well as reduce cost of printing and storing medical records.

02

CRM System

The primary goal of a healthcare CRM system is to engage, acquire and retain patients. Healthcare CRMs weave together multiple sources of data (consumer and patient demographics, psychographics, social, behavioural, clinical, financial, provider credentialing, etc.) to provide a comprehensive view into patient habits and activities.



03

Patient WorkFlow

Patient workflow management is streamlining a series of tasks required to process data by automating repetitive, predictable procedures. Patient workflow encompasses all touchpoints with the patient by integrating multiple systems from the website, call centre, walk-ins, CRM data, automated reminders and alerts for patients. A basic digital workflow system can help distinguish between patients who need critical in-house care and patients who can be provided care online.




04

Telemedicine/Telehealth

Digital solutions enable patients to connect with doctors for diagnosis, treatment, counselling and medical certificates via text, audio calls, and video conferences. Doctors can access a patient's medical history and monitor and consult patients remotely via custom built solutions which are integrated with an appointment booking system, CRM and video calling interface. A digital solution increases doctor productivity by reducing time spent managing hands-on systems for patient communication and admin.
05

Healthcare Mobile Apps

Smartphones embedded with apps can act as an assistant to patients. These healthcare apps can measure, monitor, remind and log data critical for the doctor and patient care. Apps can track doctor's appointments and provide alerts to take medications, as well as track diet, fitness parameters and keep fitness schedules will assist nutritionists and fitness specialists to help clients manage their health.

06

Wearable Devices + Apps

Wearable health devices with biosensors can be an extension of the patient. These devices can measure, monitor, store and transmit health parameters to medical professionals in real time. Examples include wearable fitness trackers (wristbands equipped with sensors) that can keep track of the user's physical activity and heart rate, and wearable ECG monitors and blood pressure monitors.
Impact of Tech in Healthcare
The following aspects explain how technology can change the healthcare industry.

Greater Patient Care

EHRs provide comprehensive and accurate reports of patients' current conditions that allow for better diagnosis and treatment. Since the data can be shared seamlessly, doctors can treat remote or unresponsive patients.


Ease of Workflow

The reduction of paper-based data collection has improved the process of data collection and storage. Medical billers, coders, laboratories and hospitals have access to digital records that streamlines operations and reduces errors, as well as improving productivity.

Lower Healthcare Costs

Cloud computing allows healthcare organisations to store data at extremely low costs, while information sharing and collaboration facilitates reduced costs in drug research and development. Patients also save money as automation and centralised data storage and access reduces the need for multiple diagnostic tests. Self-monitoring apps allow early diagnosis which means reduced treatment costs.

Better Health Management via Mobile Devices

Wearable health devices, smartphones and mobile apps support patients and physicians in healthcare. Patients can record their vital signs accurately and maintain logs about activities and medications, while doctors can examine data shared by patients and communicate with them directly to provide accurate diagnoses and maintain visit and consultation logs. These apps will reduce routine tasks such as filing and recording data as well as share vital information on drugs and treatment.