The BuUuk team have been globe-trotting a lot this month. Sam & Hon Cheng spent a week hanging out in sunny San Francisco for the annual Apple WWDC conference.
A lot of things were pretty typical; the 5am wake up call to start queuing, Sam's usual disappointment at the cold lunches, but there was a lot that was new and exciting.
"I go to [WWDC to] get an energy boost and get excited again. It's like an annual battery recharge." — Sam
For Sam, the best part was focussed on the new operating system for Watch, watchOS 2. The new operating system allows apps to be run on the Watch itself, making it much faster, responsive, more convenient for users, and increased functionality. This should greatly improve the user experience, but also allows developers a greater degree of freedom, meaning a greater range of features is possible.
"I like it when Apple launches something new…it levels the playing field. Our knowledge is reset." — Sam
Hon Cheng found the new search API to be of particular interest. This is a new framework, based around deep linking technology, which will allow app content to be discoverable through Spotlight. This means users will now be able to search on their mobile devices for apps that are currently installed, content on the web, and also content within the apps themselves. Tech Crunch have a more in depth article about deep linking.
It was also great to learn more about CloudKit and the recent developments and improvements. CloudKit can now be accessed outside of the app. This allows content to be read directly from Apple servers, rather than developers having to self-host on their own servers. This should make things much easier for developers in terms of infrastructure and data storage.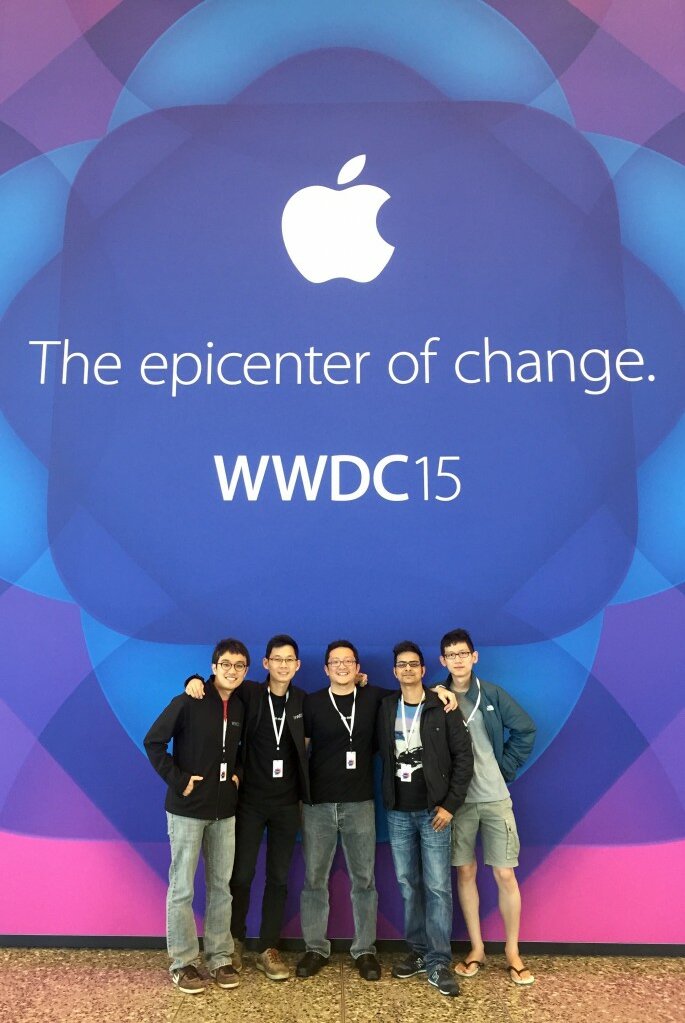 Apple using their infrastructure to power their own services and encourage developers to use them was a trend our team spotted. Our team also noticed that there was a big push on Apple's Swift programming language, and all the session examples used Swift. More and more developers are making the transition over to using Swift, meaning users should get more stable apps and better overall optimisation.
Hon Cheng also noted that there is a shift towards greater productivity in the latest iPad, with multi-tasking being made available via split screen, a great advantage for those of us who use an iPad for work. The guys were a little disappointed to not see a SDK for Apple TV, but there was still plenty to get them excited and the creative juices flowing.
Conferences are great places to catch up with other industry colleagues, but Sam went one further and had a Singapore celebrity spot! He managed to meet up with Singapore blogger extraordinaire, mr brown, after the keynote.