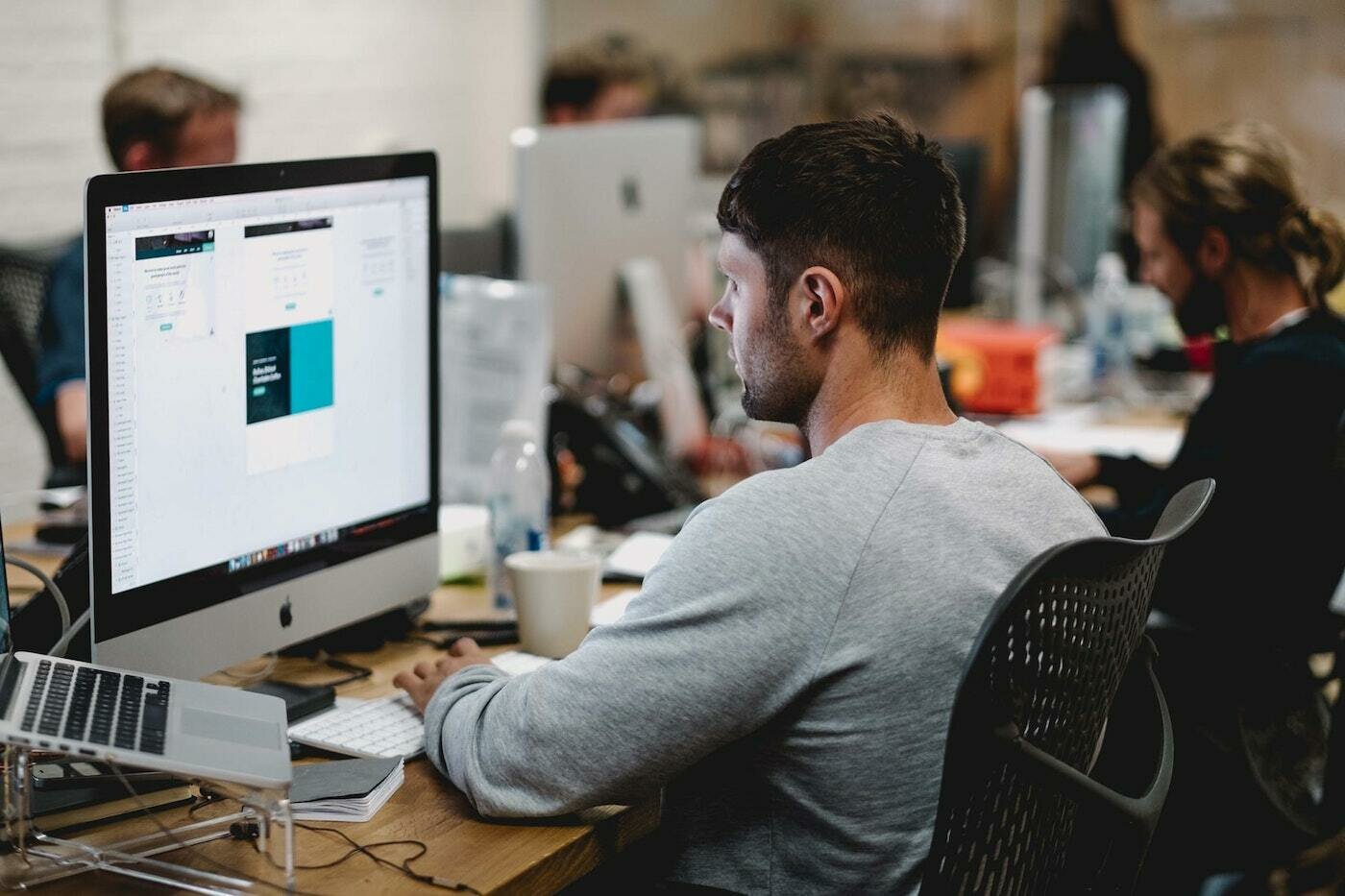 Here in Singapore, we have some of the best technical talent that the world has to offer. There are plenty of quality options available when you're trying to find an app developer and cost of developing an app in Singapore.
One of the most common things we get asked here at Buuuk by our potential clients is "how much will it cost for you to design us an app?". Unfortunately, there is no easy answer to this question. Mobile app development is a complex beast and there are many factors that can influence the price and the time it will take to complete your project.
However, with the mobile app industry experiencing a Compound Annual Growth Rate (CAGR) of 9.7% and the number of hours we spend using apps per month also on the rise, it's important to recognize that more and more businesses need to harness the power of mobile applications. That way, they can reach all their customers, whether they're a start-up or a multinational conglomerate looking to expand to a new target market.
In this post, we'll be discussing the cost of developing an app in Singapore by taking into account a number of different considerations.
What Type of App Do You Require?
The cost of developing an app in Singapore varies greatly. Some organizations might only charge a few thousand dollars, while others could quote amounts of $500,000 or even more. It really depends on what you want or can manage as a Minimum Viable Product (MVP). In reality, the price could range from around $5000 all the way up to several million depending on the needs of company, so let's discuss some of those factors.
Will your app require you to process payments for a customer? Will you need a way to securely store users' information? These things alone require more complex functions to be written out and could require several developers. The more people you hire and the more hours that are logged, the more it's going to cost.
As a general rule, games are the most expensive types of mobile applications to develop. They require complex designs, graphic designers, UX/UI teams, thousands of hours of work and multiple testing phases to ensure any bugs are removed. A simple tool-based app, however, such as a cost-calculator, is much simpler to create and will, therefore, cost less to develop.
Standing Out From the Crowd
When choosing a company to develop your app, you also need to consider how it will stand out from the crowd. According to Channel News Asia, Singaporeans are global leaders when it comes to the number of apps we have on our phones. The news channel reported that the average number of apps on a phone in Singapore is 115 with around 46 of them actually being used frequently.
This means that business owners need to focus on not just getting clients through the door (i.e. ensuring their developers create something people want to download in the first place), but they also need to keep users engaged and, more importantly, keep them coming back. This is where UX/UI designers come into play. They, of course, add to the cost but can ensure your users will actually enjoy using your app.
Using Ultra-Low-Cost Developers. Is It Worth It?
Though it is technically possible to develop an app for $1,000 or less, you ought to consider what the real cost of this could be to your business.
There will always be a pitfall of hiring a low-cost developer, whether it's an independent contractor or a large company. There will be a reason as to why the price is so cheap. It may not necessarily have anything to do with their talents, but things such as outsourcing to countries with lower salaries, or paying staff below market rates could all have a negative impact on the end product.
If using a contractor who is working cheaply, you could find that they have multiple clients to juggle at once which can cause issues when it comes to deadlines, and, if the developer is from another country, communication could also become difficult due to language barriers or timezones.
You may find that the cheaper price is due to the fact that a junior staff member will be in charge of the project, or, you may be considering someone fresh out of university. However, despite it being great experience for them, having someone inexperienced working on your project (especially if they're working solo) could lead to a number of problems if they come across an issue they've never seen before.
Another issue with low-cost quotes is that the price usually isn't inclusive of everything you're going to need. Perhaps you get enticed by a $5,000 quote when others were quoting $10,000. However, during the project it may become apparent that the $5,000 was a bit of a "bare-bones" package, which requires a number of "optional extras" to function as you envisioned. That $5,000 could turn into $15,000 and you could end up spending more than what you would have if you'd had gone with the more expensive quote initially.
There are also ready-made app modules that claim to allow you to make your own apps within a matter of hours. These are very restrictive and will almost certainly pose problems when it comes to integration with current or future systems. Avoid these cheap gimmicks and opt for the real deal.
Expensive Doesn't Necessarily Mean You're Getting the Best
Despite the points we mentioned above, it's worth noting that you should also be wary of quotes that are overpriced too. Just because you're quoted $400,000 for an app it doesn't mean the people behind it are the best in the business. No matter what you're paying, choose a company that has a solid work history and reputable reviews.
And regardless of which company you choose, you should ask for a price breakdown to make sure you're getting good value for what you're paying. Don't get carried away by an impressive portfolio with big names, because that doesn't guarantee they're the best. Make sure you get all of the details you need, including:
How many platforms will be included
Which web services will be used and the cost breakdown of all services which will be used in the project
What is their design process? How long will it take? What will be the outcome of this phase?
The experience of the team members that will be working on your app
What roles will these team members be playing in the development of your app?
What is the cost of change requests?
How thorough is the testing process? What kind of tests are they planning to do?
Is there a warranty period?
What about maintenance costs? Are they included?
What about updates and version control? How will that work for your app?
And last but not least, don't forget to ask for company references of their work and clients.
Each of the above considerations will allow you to determine how much you're really going to get for the price they are quoting you. Any good developer will be able to give you a thorough answer to each of the above questions. If not, choose somewhere else to develop your app.
Conclusion
What it all really boils down to is system complexity, system integrations, data security and product performance. Building automated smart systems or intelligence takes the game to a different level, so expect that to be reflected in the price.
Always understand those aspects of an app, and don't judge an app by its user interface, just like you wouldn't judge a book by its cover.
So, as you can see, the cost to develop an app in Singapore can vary greatly depending on your exact requirements. From around $5,000 to around $500,000, you can expect the prices to be dependent upon your needs and what features are included.
Ideally, you need to have a rough idea of how much your business can afford to put into app development and then go from there. However, at the same time, it's also important to not get too caught up in the amount of cash you're spending and consider the value that the application will add to your company.
Instead of looking at it as, for example, a $100,000 cost, see it as an opportunity to increase your revenue by X, Y, or Z. This will help make it easier for you to conceptualize what your MVP should be, and if necessary, what upgrades you may want to add on in the future if the app is a success.
We hope this article has given you an idea of what you could expect to pay for your mobile app development in Singapore. If you have any questions about how we can help with your app development needs, simply let us know!