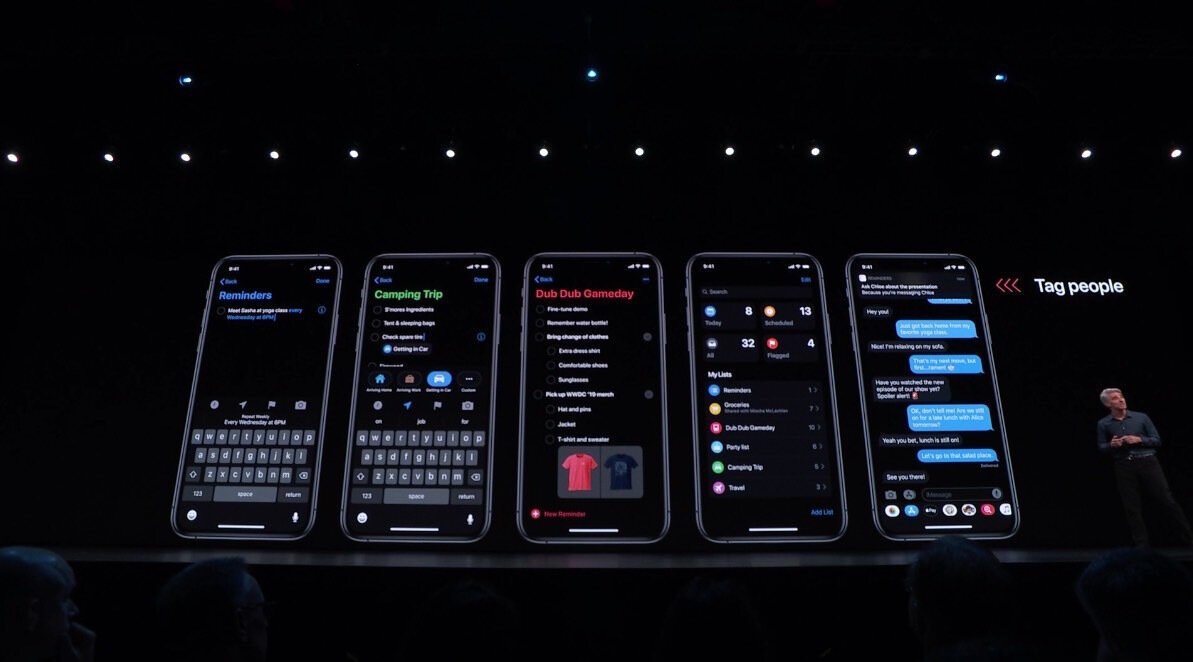 The WWDC was held at the beginning of this month which means that the highly anticipated iOS 13 update was announced. Expecting to hit our phones, iPads and Macs in the fall of this year, it comes packed with some never before seen features and major updates to core apps.
User experience is at the forefront of the update with their facial recognition software—Face ID is set to be 30% faster at detecting user's faces. Applications are also expected to open twice as quick as they did in iOS 12.
Here are some other key features of the update.
Dark Mode
After a leak of screenshots surfaced on the web just a week before the conference, iPhone users got to see screenshots of the new dark mode which Apple has now confirmed.
Already a feature seen on Samsung phones after the launch of the s10 and software updates to earlier devices, iPhone's dark mode will allow users to have a more optimized experience in low light environments; perfect for those late-night news feed scrolls or for when your browsing Netflix. Dark mode can be toggled manually or set to automatically activate between certain hours.
In addition to this, Apple has ensured that developers can have access to dark mode so that they can modify their apps to be compatible with the update.
Image credit:9 to 5 mac
Swipe Keyboard
Though this technology has been available on mobile for several years now, it has only been through third party apps. The new swipe keyboard QuickPath will allow users to communicate much quicker and easier when using one hand.
Camera & Photos App Adjustments
Image Credit:Apple IOS 13 preview
The camera app will be updated with an all new portrait lighting feature which will allow iPhone photographers to control light intensity on close up shots. This will ensure subtler lighting when needed and sharper resolution on important features such as the eyes.
They're also introducing a new black and white filter; High Key Mono to portrait mode shots for more dramatic imagery.
Photo editing has also become simpler. Users will be able to edit photos in one tap and simply drag the adjustment to their liking, just like you can with popular third-party editing apps.
Videos will also have similar editing capabilities for quick tune-ups on the go.
The way users browse images will also be completely changed, images will be organized and categorized into years months and dates and will show album covers as previews. It will also separate the mundane images from the important highlights of your year such as trips and vacations, and videos will be played automatically.
Voice Control Improvements
Siri will also be given an overhaul across all Apple hardware with improved voice to text transcription and will even showcase a new voice, which we're yet to hear from. Using the HomePod feature it will also be able to recognize different members of the family, customizing the user experience to each individual in the household.
One Click Sign-in with Apple ID
Instead of constantly having to fill out web forms with your email address or social details when you want to log in or register, iOS 13 will allow you to do all of it using apple ID. It's secure and can even generate different email addresses so that information is not disclosed to third parties.
A New Way to Organize
The notes application is getting an overhaul featuring all your notes in a thumbnail gallery format for easy access, there will also be access to checklists and shared folders to make collaboration much easier, whether it be with coworkers or friends.
Reminders are also going to have a brand-new app which will transform the way iOS users schedule their day. It will create smart lists, categorize them and allow users to see all their reminders each day in one tap.
Image Credit:Apple IOS 13 preview
Messages Changes
Messages will finally have the option to show profile pictures and can be read out automatically if you're wearing your AirPods. Memojis will be auto added to sticker packs for use in mail, messages and even some third-party applications
Health App Improvements
The health app will also feature a host of updates with the ability for women to track their menstrual cycle rather than having to install third-party applications.
CarPlay
CarPlay will feature an all-new dashboard which will host everything in one place, from music and maps to your calendar. It will all be featured on users' car's stream.
Audio Sharing with AirPods
Apple devices will also be updated to share audio capabilities with any nearby AirPod users so you and friends can watch things at the same time. This is perfect for plane rides that don't have seat back TVs; no more sharing headsets. Audio sharing will be available on both iPhone and iPad.
Maps
Maps will also be introducing a new 3D, immersive view of locations along with easy to access favorites such as Home, Work, Food and Groceries etc. Additionally, users will have the ability to share collections of locations they've visited or plan on visiting, making sharing travel tips with friends and family even easier.
Image Credit:Apple IOS 13 preview