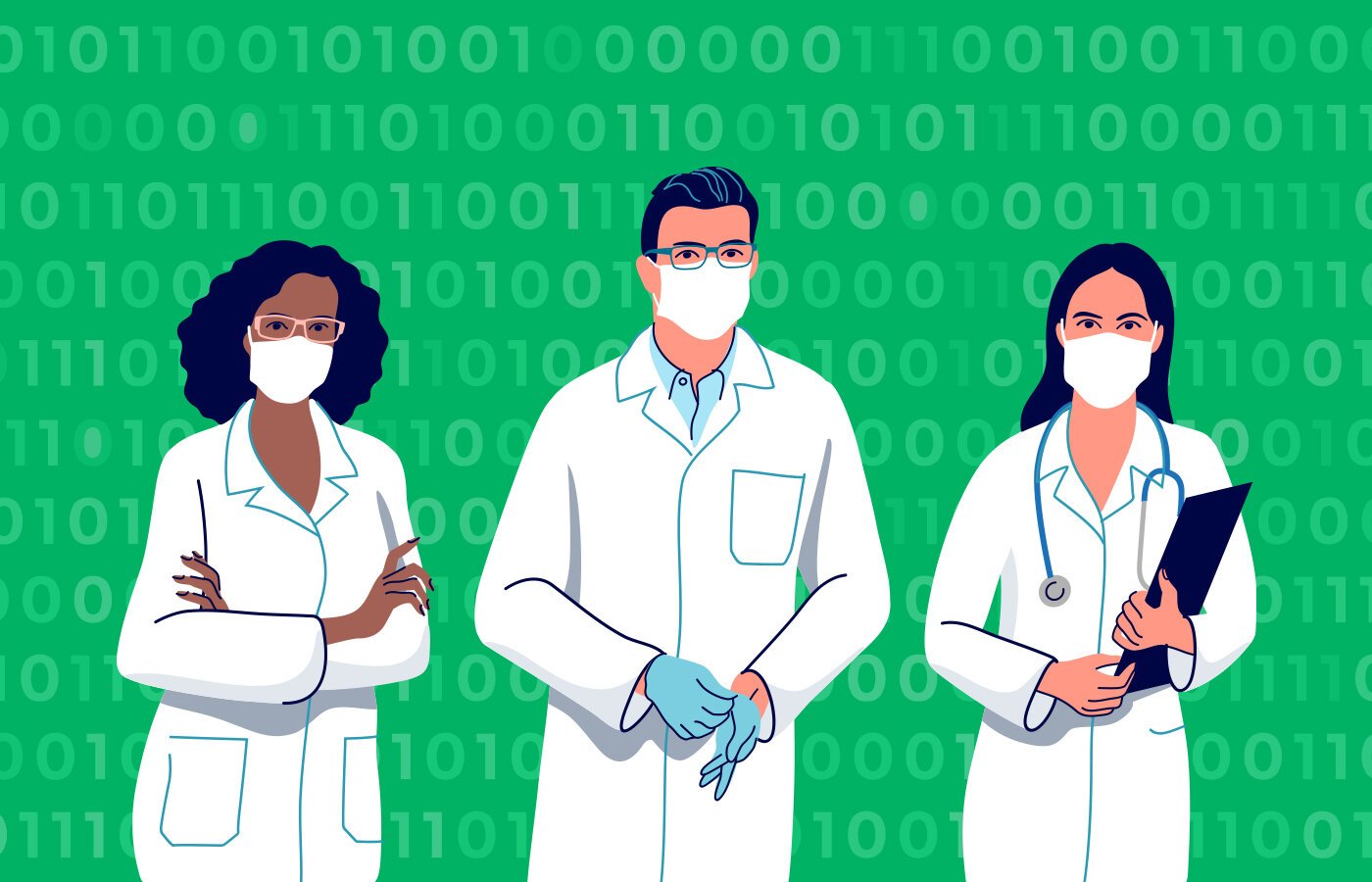 The global healthcare industry has embraced technology in all realms. Electronic Health Records (EHRs), medical imaging, telemedicine, and robots are the new realities in today's digital healthcare system. Big Data is one of those disruptive technologies with the potential to revolutionise the healthcare industry completely. Big Data and healthcare synchronise to save lives, cut costs, and offer many more benefits.
The IDC report suggests that Big Data is expected to grow at a compound annual growth rate (CAGR) of 36% through 2025 in healthcare. McKinsey says that Big Data in healthcare saves $300 billion to $450 billion in the US every year. This article will outline the benefits of Big Data in healthcare, but before that, let us give you a glimpse of what Big Data is in the healthcare context.
What is Big Data in Healthcare?
In the healthcare industry, Big Data refers to the large amount of data collected, analysed, and processed for discovering trends, patterns, and dependencies in the complex medical domain. This benefits healthcare companies in better decision-making, service improvement, product customisation, cost reduction, etc.
By harnessing the potential of Big Data and data visualisation, new digital products can be designed, and services can be adjusted to personal users' needs. Despite the challenges faced in proper solution implementation, Big Data is gaining popularity in the healthcare industry and is a key player in the future of digital healthcare.
Rising Need for Big Data in Healthcare
In the healthcare sector, Big Data is derived from various sources with proper analytical tools. People in the healthcare system, such as healthcare organisations (HCOs), patients, medical staff, etc., can reap enormous benefits from this data. Big Data is needed for patient recovery, enhanced medical results, improved operations efficiency, and informed decision-making.
In 2017, Big Data in healthcare accounted for $16.87 billion globally, and is anticipated to reach $67.82 billion by 2025, with a CAGR of 19.1%. Using Big Data analytics, the large volumes of Big Data in healthcare are transformed into useful information, delivering insights to doctors, healthcare providers, and patients effectively. Big Data analytics in healthcare provides many other benefits, as detailed below.
Big Data in Healthcare in Singapore
In Singapore, 48% of the population suffers from chronic diseases, increasing demand for better healthcare infrastructure in Singapore. A Singaporean company, Healint, has been tracking data of patients suffering from migraines. Using this platform, healthcare stakeholders use Big Data to manage chronic diseases. Healint uses mobile sensors and analytics to understand patients' chronic conditions.
Another example is Singapore's Smart Health-Assist, in which the ICM enhances people's quality of life, improves work efficiency, and creates growth opportunities in IoT infrastructure.
Benefits of Big Data in Healthcare
Despite the challenges faced by the healthcare industry in securing data due to the sensitivity of healthcare information and other security reasons, hospitals are deploying innovative technologies to unlock the benefits of Big Data in healthcare:
1. Leveraging Heterogeneous Datasets
The information derived from the analysis of datasets delivers valuable insights for healthcare providers. These analytics help doctors prescribe effective treatment and make accurate decisions to improve patient care. The huge healthcare datasets have helped revolutionise the industry, resulting in better patient outcomes.
Predictive analytics is derived from data aggregation of various information like patient history, socio-economic profile, etc. When population-wide data is considered in the context of a particular area, predictive analytics in Healthcare using Big Data helps point out the higher risks for a particular patient segment, thereby enabling early protection.
2. Smooth Hospital Administration
Big Data may help to remove any impediments that come in the way of running the administration smoothly. It helps reduce care measurement costs, provide the best clinical support, and manage patients at higher risk. It helps medical experts in analysing data gathered from different sources. It also helps healthcare providers know the after-effects of a specific treatment.
Big Data compiles the information collected with historical and real-time figures, thereby facilitating hospital planning and management. It also prepares accurate supplies estimations, predicts increased doctor's appointments, redesigns workflows, and streamlines schedules.
3. Expanding Diagnostic Services
Big Data enables improved patient diagnostics by offering every patient electronic health records (EHRs), including their demographics, history, allergies, and current and previous test diagnostics. These records are shared through information systems security and can be accessed by doctors and related healthcare professionals. This enables healthcare professionals to access the patient's data and update diagnostics and treatment accordingly. The EHRs can send notification alerts to the patients about diagnostic visits and keep track of their prescriptions.
4. Reducing Human Errors
Using Big Data, errors made by doctors can be prevented and reduced. Big Data tools can analyse individual patients' medical records efficiently. The data analysing software can point out missing information or flag any other important issues. The probable errors are reduced when the system flags a drug not correlating to the patient's records and blocks it until reevaluated. This way, the data platform proves extremely useful to medical professionals and hospitals.
Although some drug changes can be made, causing no damage, there are still some instances where the slightest mistake can be fatal for the patient. Thus, data analysis is essential for hospitals to avoid any possible mishaps.
5. Reducing costs
Big Data can reduce costs for the healthcare industry in various areas such as patient admission, medications, operations, staffing, etc. It reduces the problems related to overstaffing, helps in increasing hospital efficiency, and decreases patient wait time.
Electronic health records (EHRs) can also cut costs by reducing unnecessary hospitalisation. The insights provided by this analytics help physicians to deliver better patient care. This data is also helpful for shorter hospital stays, fewer patient admissions, or re-admissions, thereby reducing costs further. Also, Big Data in Healthcare estimates individual patient costs and maximises healthcare efficiency by judiciously planning the treatment.
Preparing for Upgrade
Big Data has been efficiently bringing on changes in the healthcare industry. However, many healthcare providers have still not implemented it for better hospital administration. Here are the changes that might be required while embracing Big Data in the healthcare sector:
Preserving confidentiality of patients' data
Updating privacy policies regularly
Keeping optimal cost for admission and other services
Tracking patient information
Providing faster treatments
Accessing health records efficiently
Implementing improved healthcare staff scheduling
Conclusion:
Big Data has successfully brought about new perspectives for healthcare technology and improved the overall industry. It offers many benefits that include the most sought-after, real-time, and follow-up care, thereby preventing medication errors. With time, Big Data and healthcare capabilities will grow stronger to save lives and improve hospitals globally.