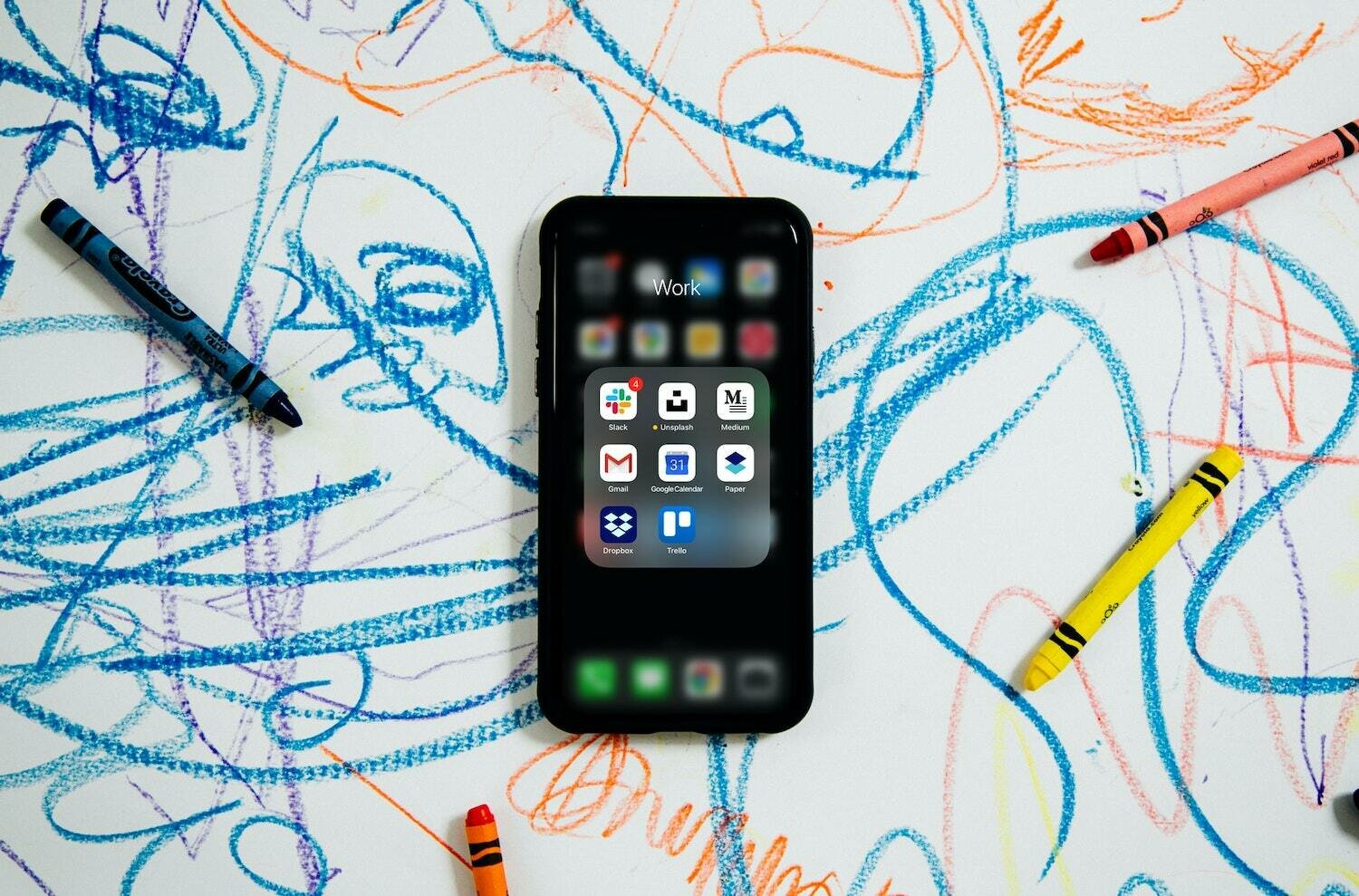 Singapore was one of the few places in the world, which was able to quickly and effectively stop the spread of the coronavirus. But due to a recent spike in the number of positive COVID-19 cases, Singapore has enforced a lockdown. Most businesses have already adopted a digital strategy to continue operations and would have to make effective use of the same to get past this crisis.
Part 1 – Guiding Teams and Working From Home
By now, your employees might have adapted to work under the 'different' conditions adopted by your company to manage the COVID-19 outbreak. They could be working remotely, or working on a schedule where they are in the office premises for selected days with fewer colleagues around or follow some other social distancing setting. There are advantages of remote work such as less commute, more flexibility, and cost savings. At the same time, there are disadvantages like people can get lazy, employees can get demotivated or depressed due to lesser face-to-face interactions collaboration.
These different working circumstances have to be managed appropriately, else there can be the risk of falling productivity and poor customer service. The employees, management, and HR have to proactively take measures to bolster productivity, improve morale and sustain team performance.
Here are a few steps that you can take as an employee:
Establish a routine and stick to it. Get up at the same time you would for work on a regular workday. Don't skip breakfast. Step out of the house before you start work.
Dress up and get ready for work rather than working in your PJs. This primes you physically and psychologically to start a work day and trigger work mode within you.
Set up a workspace with a desk and a comfortable chair. Ensure you have your usual office stationery, computer peripherals and your bottle of water.
Block some part of the workday for meetings, or daily check-ins. You can manage the rest of your day better as per your personal and professional commitments.
It is easy to check that latest tweet or your friend's post on Instagram when you are working from home. But avoid getting distracted. Take a couple of breaks during the workday to take a breather.
Take a proper lunch break. As a team, you can decide on a common time for lunch. You can lunch together virtually too on some days.
Inform people who are living with you about your work schedule, important meetings and calls so that they do not disturb you.
List the tasks you aim to complete during the day. Keep a track of how much time you spent on work. It will help you measure productivity. Try to end your day at the same time; you would leave for the day from your office. These steps will help you not feel guilty to switch off at the end of the day and also avoid an overlap between work and home life.
Part 2: Map Your Digital Service Blueprint
The COVID-19 crisis has resulted in organizations transforming their operations to digital operations. Schools are conducting classes online. Corporate board meetings are held via digital conferencing tools. Even musicians and other artists are live streaming performances and concerts.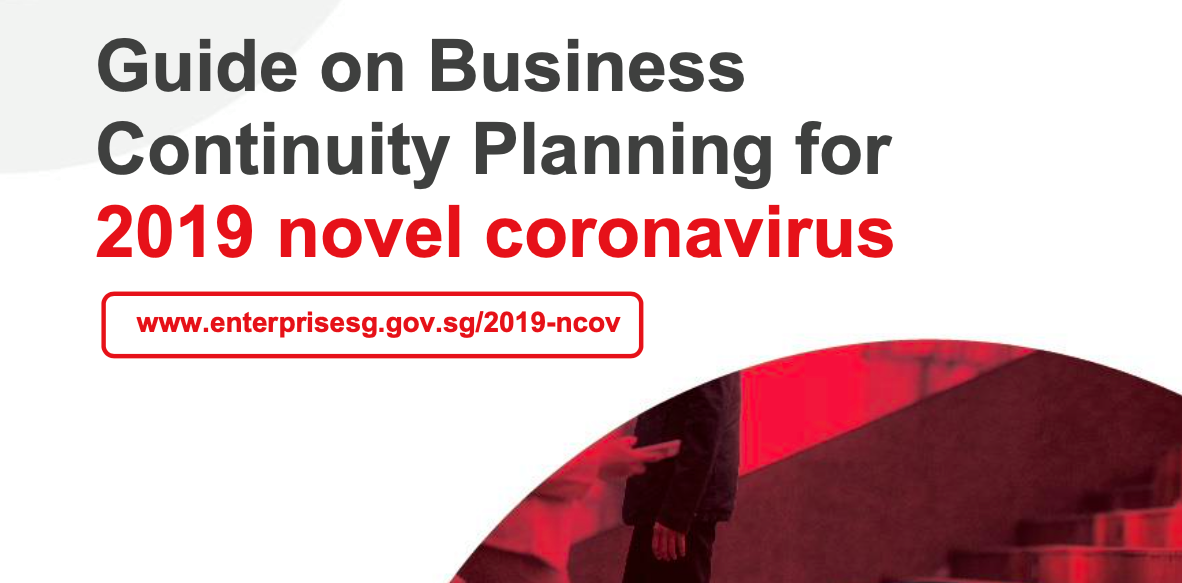 Issued by MOH and other Government Agencies.
As a company, you have to embrace technology for business continuity. You have to adapt your business model such that your operations are run digitally. This will steer you ahead of the competition, and you will be able to achieve your goals.
To adapt your business model to the changing ways of business, create your digital service blueprint. A service blueprint is a planning tool. It displays the list of services, actions required to provide the service and support/infrastructure required to deliver the service across different channels. There will be a line of interaction, front-stage actions, backstage actions, and support processes. For example, here is the service blueprint of a 'buy' transaction of a retail store –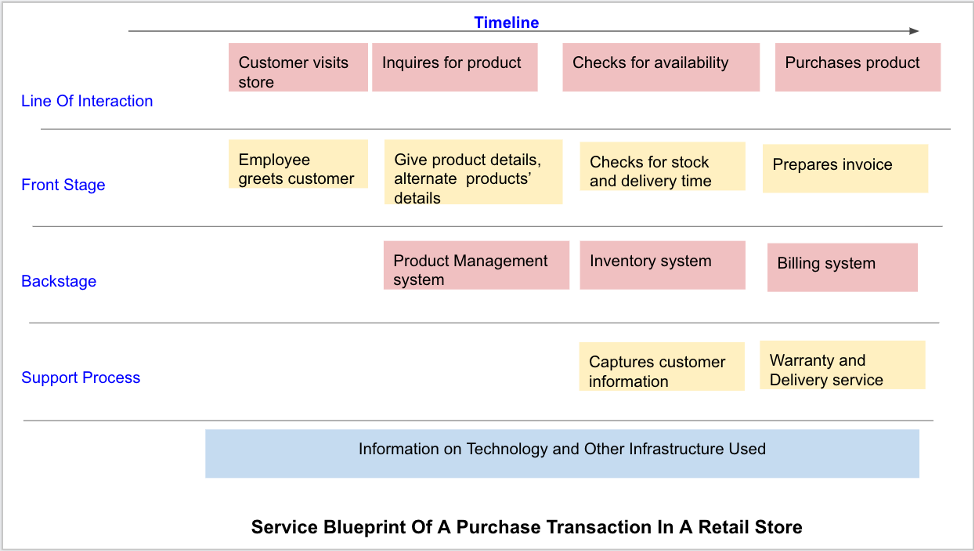 Similarly, create blueprints for services offered digitally. Understand, evaluate and map how your business operates at various levels in a digital framework. Create a digital service blueprint for all operations in terms of processes involved, teams working on it, resources being used, technology services used and channels of communication and service. The digital service blueprint will help to –
Understand new ways of delivering services.
Find out impediments to workflows and rectify them.
Develop better customer experiences.
Implement complete digital solutions that can be used post-COVID-19.
Incorporate a digital strategy aligned with organizational processes.
Discover processes that cannot run digitally and find out the best strategy to complete them.
Part 3: Long Term Solutions – Building Digital Ecosystem
Businesses are seeing a fundamental shift in the way they work. They have to implement digital processes and offer services for business continuity and revenue generation. Organizations will realize the benefits of effective digital solutions and adapt those implemented now for the COVID-19 crisis as long-term solutions.
Business Operations – Employee Engagement and Work Policies
Most organizations have adopted revised policies related to remote working, travel, and remuneration. The policies that result in higher efficiency and productivity will be continued when it will be business as usual. For example, work from home might become more the norm rather than an exception in many cases. This means company updates, training and other important aspects have to be integrated online. An enterprise application that allows you to post company updates online will keep employees up-to-date with company news. It can be used to post information about the next company event, policy changes, meeting minutes, etc.
Increase in Online Interaction
People are connecting even more via online channels and communities. As per BounceX, the number of email interactions and usage of messaging apps has significantly increased. But office workers get a ton of emails and important communication can get lost. Moreover, the younger generation workforce does not prefer emails. Custom enterprise apps designed for your company's internal communications can enhance conversations and engagement. They connect people and create a virtual company culture that helps employees who feel isolated or distanced from the company.
Marketing Strategy
Since people are online, that is where businesses will find their potential customers. Companies have to incorporate digital marketing strategies or increase their marketing spend on digital channels. How do companies measure the effectiveness of their digital marketing tactics? Custom digital marketing applications can be designed to monitor visits to your website, actions on blog posts, and mentions about your company and brand in news sites and social media. Analytics tools can combine information from different social media and websites such as Google, LinkedIn, and Youtube to extract analytics and marketing insights.
Data Management
Technology allows us to collect enormous amounts of data. Significant quality and quantity of insights can be derived which can be used to fine-tune business operations. In Singapore, the government has launched an app called TraceTogether. It uses Bluetooth signals between smartphones to see if potential carriers of the coronavirus have been in close contact with other people. But this data is quite personal and people will not like surveillance on their movements. Moreover, a centralized collection of data can lead to data breaches and privacy violations. But if governments can get high-quality data, they can implement effective solutions to such problems. Blockchain technology can be used here. It is a decentralized, highly secure ledger. Data can be stored using cryptographic technology. Custom apps built using blockchain technology allow for private and secure data collection. People using the app can control the amount of data to be shared, with whom to share it, and under what circumstances to share it. These apps are perfect for secure transmission of sensitive data. People will have the confidence to share data using such apps and play a role in the prevention of future pandemics and even in the cure of existing medical issues.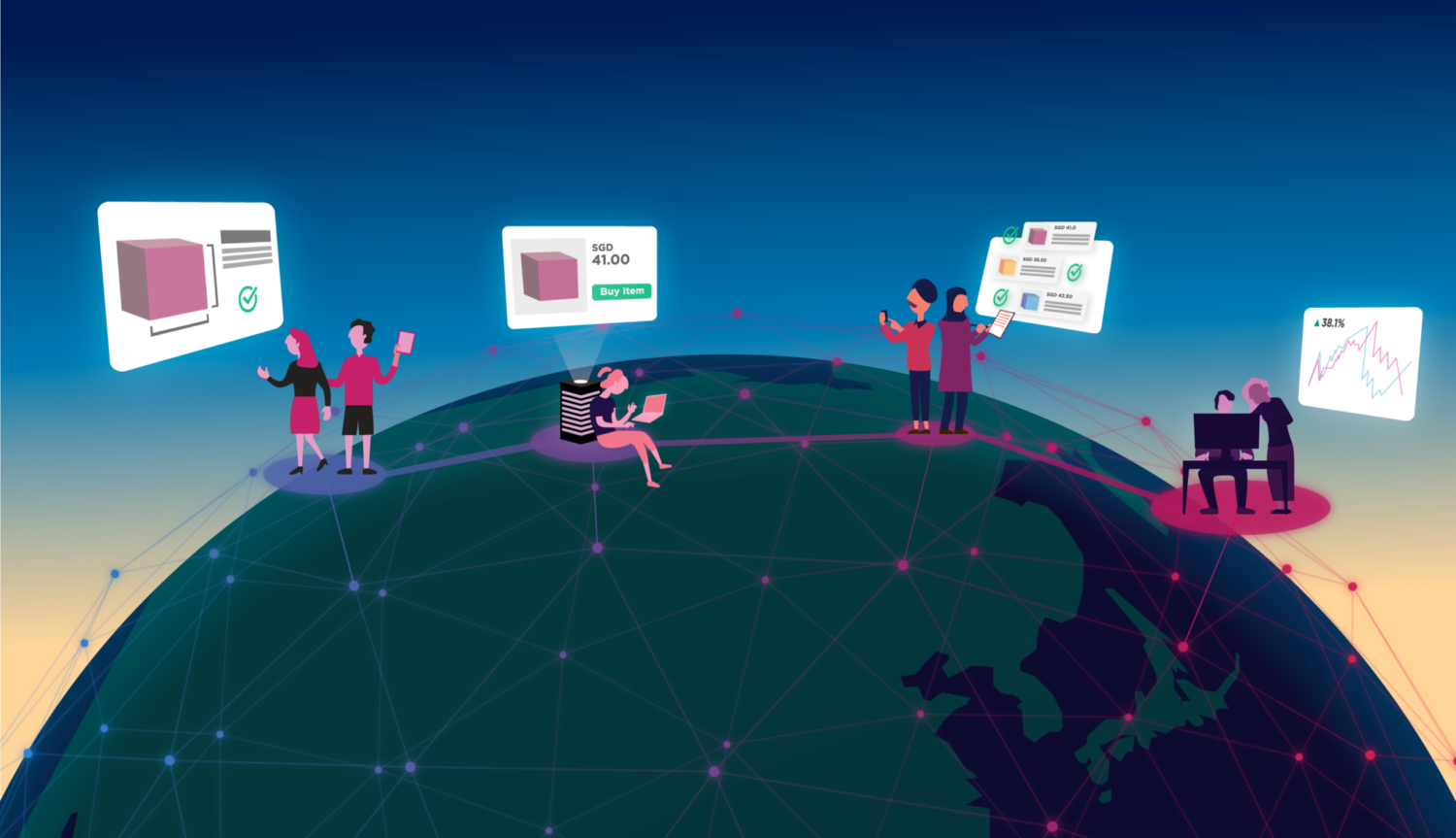 Digitalise. Automate. Grow
40% of CEOs have digital transformation at the very top of their boardroom agenda. Do you?
We were leaning towards an increasingly digital world, but the COVID-19 crisis just gave it a boost and the growth in digitalization will be even faster.
Part 4: Predictions for a World Post COVID-19
The world is far from a solution for COVID-19. But it has changed the world in many ways and will bring about more transformations. In this context, we bring forth a few predictions –
Contactless Interactions and Interfaces
It seems that the new way of life of limited touch and social distancing might continue even after we overcome this crisis. People will want to interact with lesser physical contact. There will be an increase in demand for voice interfaces and machine vision interfaces. Development of facial recognition, gesture recognition applications, autonomous checkout applications in stores will gain traction.
Robust Digital Infrastructure
Better digital infrastructure solutions will be developed as businesses, schools and homes in Singapore will require better digital infrastructure. COVID-19 has made us realize that meetings can be held online, classes can be held virtually, and working from home can be for real. An important aspect here is stability. Your business operations should be consistent and stable on the digital infrastructure. Moreover, the digital platform should be agile enough to handle changes such as a pandemic, demand fluctuations or revamp in internal policies.
Usage of IoT and Big Data For Monitoring
The pandemic has made us realize that we need to monitor data even better. Solutions that use IoT and Big data to track and predict trends of epidemics are the need of the hour. Information derived can identify where the disease will spread next, and where to send medical personnel. Platforms that allow for the collection and collaboration of data sources such as travel bookings, medical profiles, weather conditions, etc. will provide deep insights and transparency during epidemics. At the same time, the apps have to safeguard every individual's privacy and prevent abuse of data.
Telemedicine
Hospitals can implement enterprise solutions that enable telemedicine. It will ensure remote health care, reduce in-house visits to clinics, and increase monitoring of health parameters. Patients can manage preventive treatments better and reduce healthcare costs.
Increase in Online Shopping
There is a significant spike in traffic for e-commerce stores due to movement restrictions. RedMart, FairPrice, and Amazon Prime have been swamped with orders. Online shopping will prevail post the crisis. Businesses will want software that will allow them to provide superior online retail services and enhancements to their logistics systems to accommodate spikes and troughs in demand.
Increased Online Interactions And Virtual Events
People will continue to interact online. There will be more consumption of news and views. Music shows, plays, and even marathons are being held virtually. These will continue to gather steam in the future due to cost benefits and the advantages of them being re-watchable and shareable. The Singapore Heritage Festival in June is going digital. People can experience the festival through virtual tours and online workshops. Companies will look for apps that can deliver seamless virtual interactions and almost life-like streaming of virtual events.
Rise of eSports
The Olympics have been postponed and Wimbledon 2020 has been cancelled. Sporting fans are looking at alternatives in eSports. The eSports industry is witnessing tremendous growth. COVID-19 has provided an impetus to it. People are turning to eSports. There will be a rise in demand for game-play platforms and broadcasters for live coverage of events.
Wider Implementation On How We Work
There is a reluctance to implement the policy of 'work from home'. But now entire companies are working remotely and in the process are learning to redefine policies and strategies around it. Companies have also realized that in most cases, it increases the level of commitment and does not put a dent on productivity. Many companies will adopt an increase in the amount of time that employees work from home.
At the same time, there are a lot of non-digital trends that we have to keep an eye for. Human beings are essentially social beings and therefore they will want contact with other humans. They need connections in real life too. Soft skills such as listening, speaking, negotiation, teamwork will become even more important as more work gets done online.
The pandemic has led to worldwide panic. Governments and organizations are scrambling to manage the society, economy, and continuity of business operations. Therefore regulations related to privacy and security taking a backseat. But if this continues, it will be dangerous and there can be serious implications on citizens' rights. There can be misuse and manipulation of information. We have to remember to not let data privacy be a victim of the pandemic.