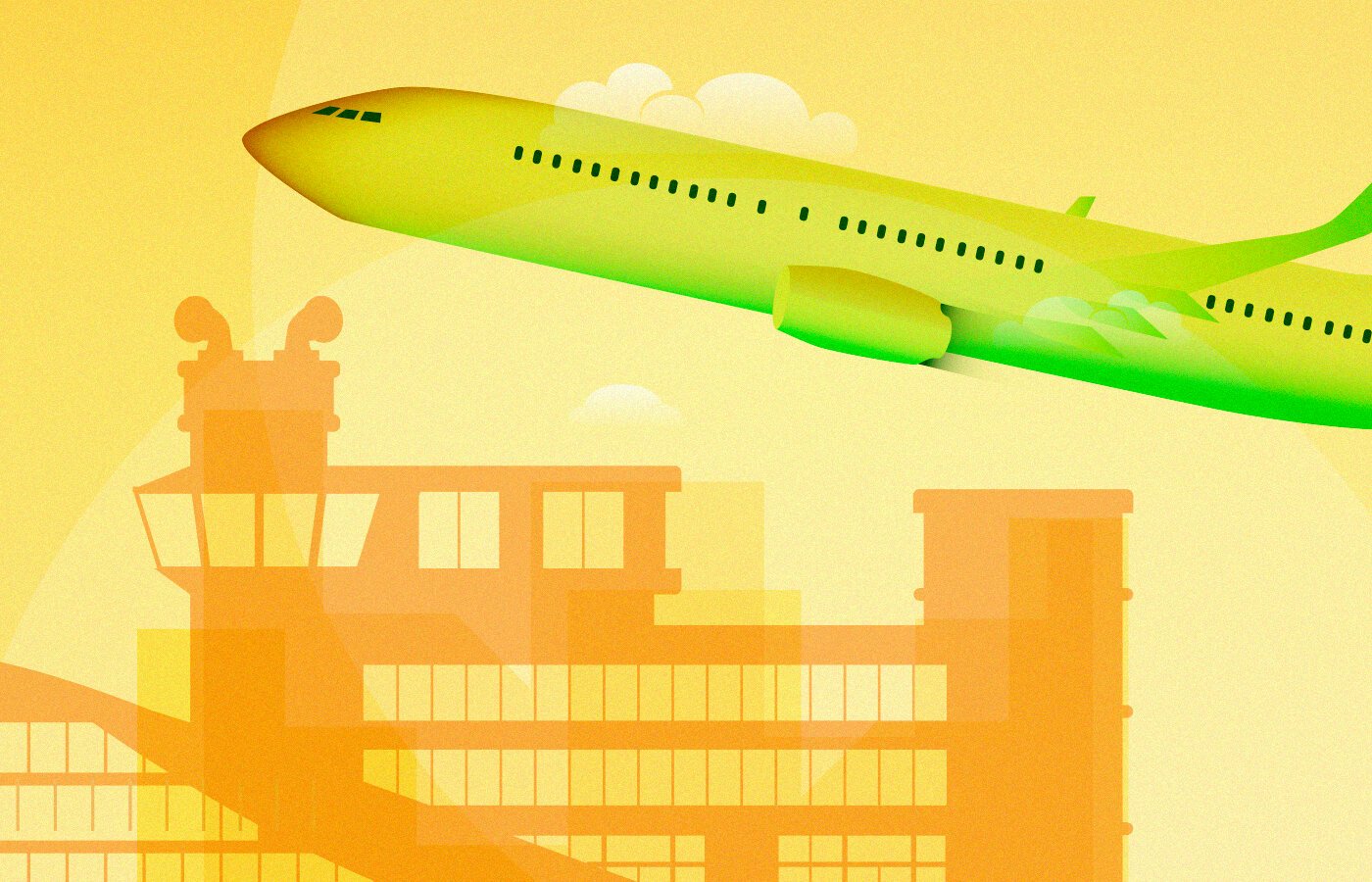 The third decade of this millennium has presented a digital revolution in every aspect of life. Every sector harnesses digital transformation's power, from education to air travel. It is believed that the air transport Industry utilises cutting-edge technology to facilitate flying. However, the core of aviation is still in need of a transformation in the face of digital transformation in Airports. Passengers' expectations today are not limited to easy flying. They demand a fully digital and seamless experience.
Airports and airlines are indeed in need of digital transformation to meet passengers' requirements. As per a report by SITA, almost every airline is willing to take measures for a promising future for airports with better customer experience and engagement. This article will discuss some of the primary measures adopted by airports to meet passengers' requirements.
Different Digital Transformation Trends in Airports
Here are a few digital transformation trends in airports to give a glimpse of what technology has to offer for the future of airports:
Leveraging passenger experience to increase customer engagement
The core of the aviation industry is to ensure a comfortable customer experience during air travel. The digital transformation of almost every service in the last few years has made passengers more tech-savvy than ever. Passengers expect a seamless and comfortable experience with minimal time consumption in different processing steps.
Statistically reported, almost 83% of air transport personnel believe in transforming their strategic planning according to the customer demographics for utmost satisfaction and comfortable customer experience. SITA made the Digital Declaration Solution for air transport customers, enabling them to share their health and travel documentation ahead of the journey for easy processing. It eventually adds up to the comfort and satisfaction of the passengers. With the introduction and amalgamation of technology in airports, an impressive 8% hike in passenger satisfaction has been noticed. This hike in satisfaction allows the customer to happily share their information for further improvements like biometrics for processing.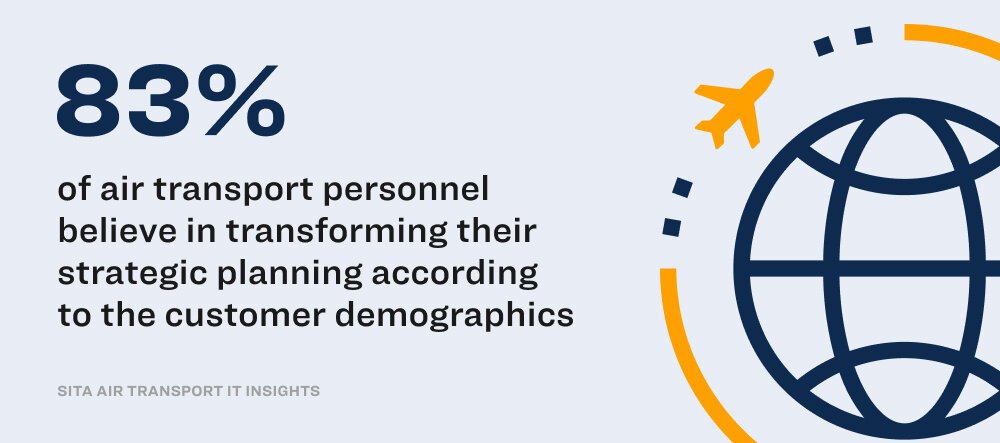 Airlines businesses nowadays are looking for ways of transforming themselves to grab a seat in customers' minds. The digital transformation in airports has presented an incredible opportunity for airports and airlines to step up from basic applications-based services to offer a personalised experience.
One of airports' and airlines' most popular personalisation options is integrating separate operating systems to connect customer-facing interfaces. It allows them to create profiles for more accurate preferences using artificial intelligence and machine learning. Well, that's not it. The scope of the future of airports extends to the use of omnichannel platforms for better customer engagement. Simply put, technology and innovation bring great airport digital innovation and promising growth in the future of airports.
Data and Collaboration
The next step towards the digital transformation of airports is using data and collaboration across different teams, functions, and locations in the aviation industry. Those mentioned above must work closely with operational efficiency to enhance the core services regarding passenger satisfaction and comfort. Almost every airport and airline deals with a vast data load for different operations, passengers, and situations.
Collaboration concepts like Airport-Collaborative Decision Making (A-CDM) and Total Airport Management (TAM) proposed by SITA need to come into play to utilise the true potential in revolutionising the future of airports with digital transformation. Data plays a vital role as it enables airports and airlines to extract valuable information and transform passenger experience into more seamless and comfortable.
The first step in utilising data is to assemble and integrate external and internal data with the help of various APIs that are now available in most of the leading systems used by several airlines and airports. The second step toward using data includes deploying different business analytics and Intelligence tools to extract powerful and accurate insights. In addition, machine learning and artificial intelligence can predict and prescribe the best action for situations like disruption.
Achieving better operational efficiency to handle increasing demand
Statistically reported, passenger numbers will be doubled in the next couple of years, and most airports and airlines are at their peak capacity. Thus, further physical infrastructure expansion is simply impossible to meet demand. This scenario demands utmost improvement to enhance the potential of existing resources to meet the increasing demand for air travel in the forthcoming time.
Airports and airlines must adopt new technologies like aircraft turnaround, passenger processing, and airport management. These help churn out operational efficiency and positively affect operational costs and earnings. Airports need to equip technologies like biometrics and smart lane to facilitate passenger identification and processing efficiently.
Operational efficiency is important in different aspects of air transport, such as sustainability. As reported by ACI, 235 airports across Europe are committed to becoming net-zero by 2050, and 90 airports are becoming net-zero carbon-emitting entities by 2030.
Innovative tools like artificial intelligence and machine learning can predict accurate flights enabling the airport authorities to plan. Digital transformation trends in airports also equip tech solutions like chatbots to relive customer service with instant customer service efficiently.
Use of Blockchain
Blockchain is one of the most rapidly growing technologies of all time. It has the power to share critical information securely, instantly, and privately. The air transport industry has an annual expenditure of $50 bn USD on spare parts. Yet, it doesn't have any order tracking or tracing, piling up costs and the risk of data overlapping in the view of disruption. Blockchain solutions enable tracking and tracing of these transactions of hundreds of millions efficiently and eventually reduce inconsistency and burdensome costs. SITA has developed a blockchain-based EPL verification solution for pilots that can work accurately without a network. It has become a standard practice in international flights to confirm the identity of the pilot. Blockchain is one of the most promising solutions for digital transformation in airports. It reduces unnecessary costs and brings operations efficiency, security, and management to the air transport industry on a large scale.
Conclusion
The digital transformation in airports pertains to the adoption of innovation in services by the air transport industry on every level to facilitate passengers. The industry needs to transform itself to handle the surge with limited resources, considering the rapid growth in the number of passengers opting for air transport. The physical expansion of airports is not possible in most cases. Airlines and airports must adopt trending technological solutions like machine learning, artificial intelligence, and chatbots, globally accepted for simplification and increased efficiency of data-driven tasks.