Getting to know…William van der Bijl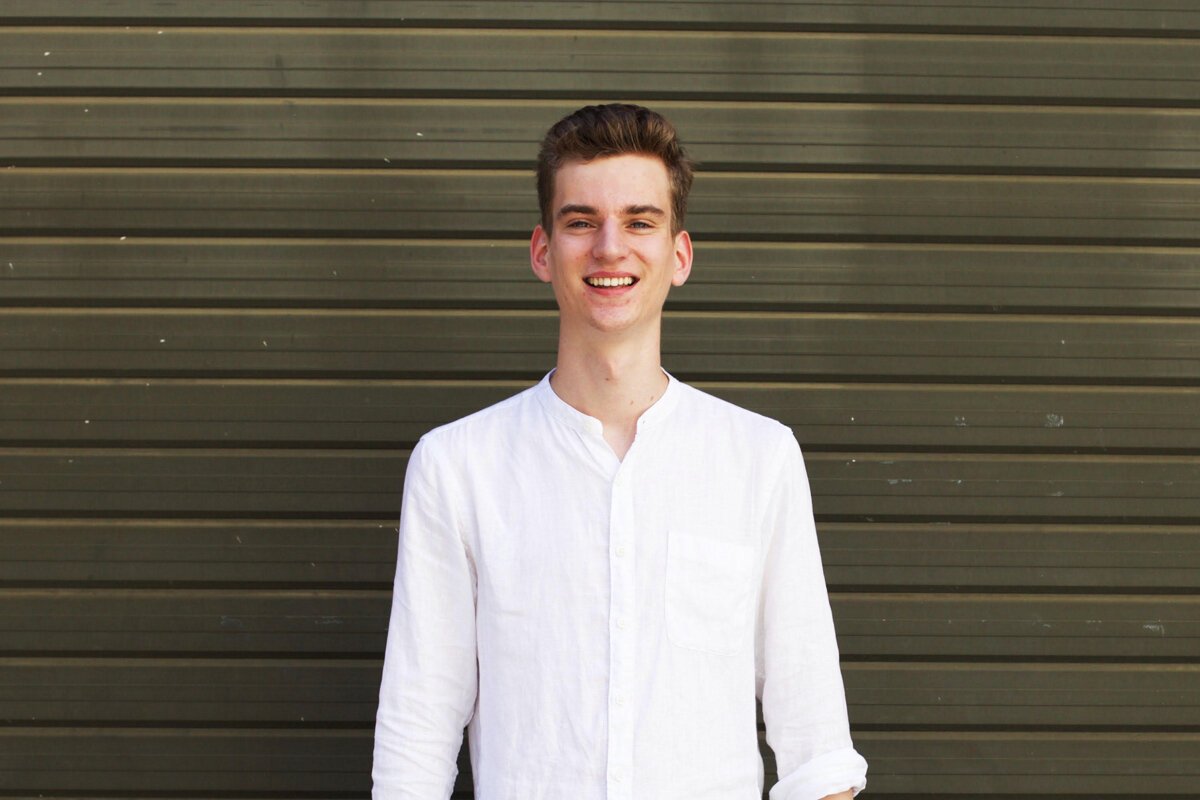 For the eagle-eyed of you who spend time on this blog, you'll probably have noticed a new voice posting here. William van der Bijl, is our summer intern for 2016, and has been keeping the buUuk team occupied with some fun design challenges – making some cool time-lapse videos, and telling their stories through colours – as well as working with the team on a number of UI projects.
But there's much more to buUuk's latest super intern. I had a chat with him to find out…
Hey Will, tell us a bit more about yourself.
I'm from Surrey, in the South-East of England. I love playing sports, and taking the dog for a walk in the forest.
I'm studying design at Loughborough University in the UK. When I go back in October, I'll be completing my final year. I really like my course and I've realised through embarking on it that I really want to do interaction design. We had a few modules on psychology and anatomy that really got me excited about the human side of design.
At school, I loved architecture, but I didn't really enjoy the maths and physics side of it, so I ended up finding a course in Ergonomics, which led to my degree choice.
What had you been doing before joining buUuk?
Between July and December 2015, I worked at Roche, in Germany. It was really structured and corporate. I interned with the Design Management Team. The team emphasis was to create the best products and tools to help patients manage diabetes. We were quite a small team in a huge company. It was a really formative time for me and I learnt a lot. Looking back, I enjoyed working there, but the dynamics of being in a small team in a large company just wasn't the right fit for me.
So, what prompted you to join buUuk and move over to Singapore?
I knew I really wanted to spend some time overseas again, and I'd never visited Asia before, so I started researching things online and Singapore seemed like a really good place to start. It's got a reputation for having a thriving tech and start-up scene which really appealed to me. I ended up contacting a few people about internships, and one of them connected me to Nav, and the rest is history!
I loved that when I first started, Nav asked me 'so, what do you want to learn?'. That moment sums up my whole buUuk experience so far.
Great stuff, love it when a plan comes together! So how's it all going? What are you working on?
I'm working on two things at the moment. One is a UI design project, the other one is a research piece focussed on user-testing.
For the UI design, I'm working on an app which will help users to reduce their meat intake; it's something I'm pretty passionate about. As a society, we eat too much meat but we need to increase our awareness of how much we actually consume, and also to find suitable alternatives. This app will help people to do that. Users log their eating habits over a period of time, and then the app can give them meat free alternatives, to help them cut down on meat. There will also be infographics about the effects of eating meat on the environment and on our health.
The research piece maps different user-testing approaches along side time and budget, and gives recommendations about what can be achieved given the different constraints e.g. if you have a lot of time, but a small budget, it will advise you what approach is best.
How are you finding Singapore?
I really love the community feel here. I think the buUuk team has really gone a long way to making me feel settled in. We do a lot of fun things together, like cook or go out for brunch. They've all made me feel so welcome.
I do miss cooking my own meals every day though, and sometimes Singapore feels like a very small place. I am missing just being able to disappear off into the countryside. But really, everyone has been warm and welcoming.
What things have you learnt – about yourself and about work?
I really love doing UI design; I find it really fun and rewarding to see your idea take shape. I'm definitely a visual thinker.
With the UI project, I spent far too much time working on the wire-frames. I know not to do this next time! I've also found a passion for health and nutrition, so perhaps my future would see me working in this field.
I also know I really want to work in a similar environment to buUuk when I finish my studies. I loved that when I first started, Nav asked me 'so, what do you want to learn?'. That whole moment kind of sums up my whole buUuk experience.
Thanks for the chat Will! Hope you enjoy the rest of your time here in Singapore!