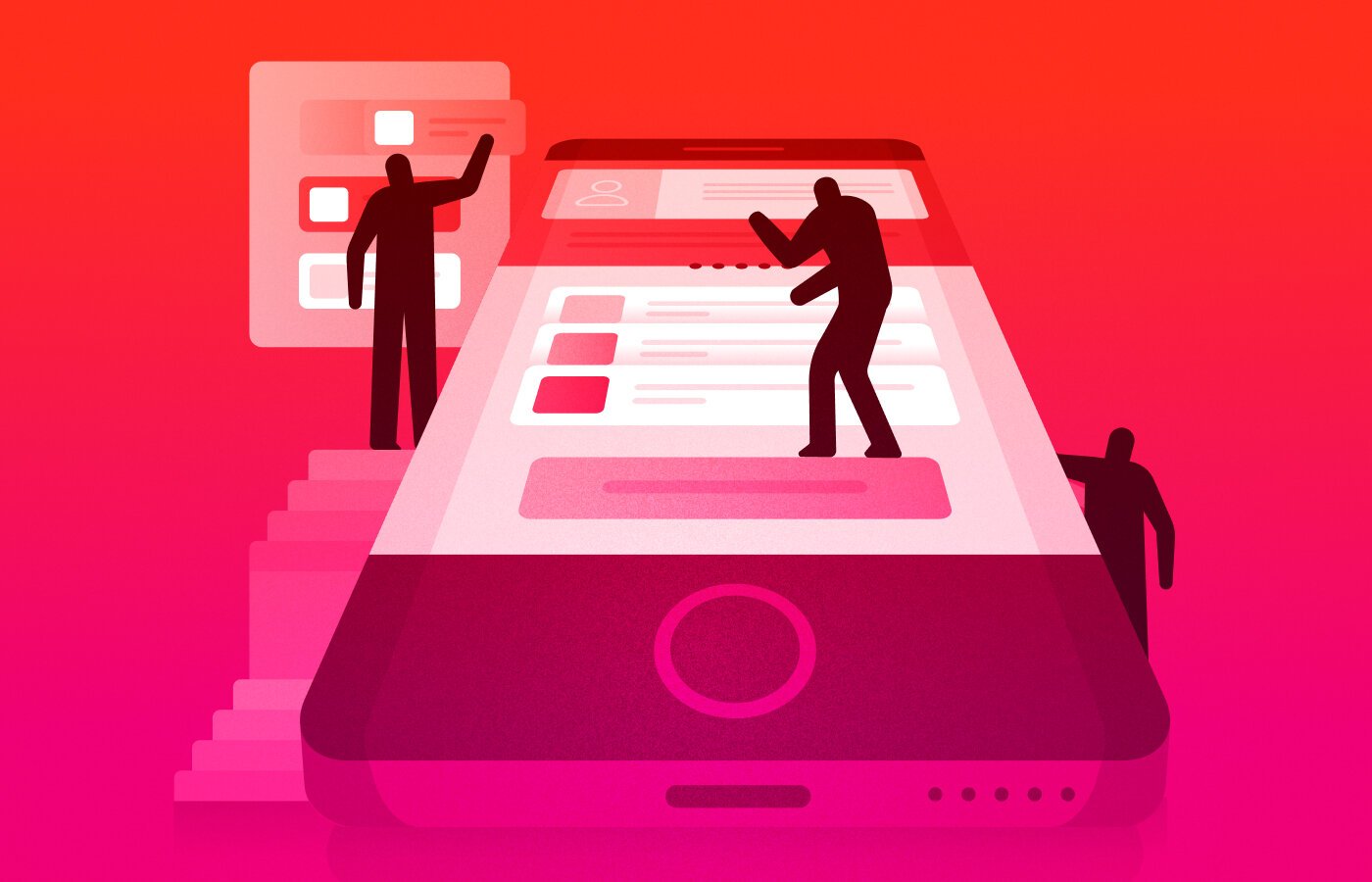 Over the past decade, mobile apps have become an integral part of our daily lives, with millions available for download across platforms like iOS and Android. The widespread adoption of smartphones has led to a massive user base for these apps, enabling users to engage in various activities such as social networking, entertainment, shopping, and productivity.
With the power of computing and internet connectivity at their fingertips, users now rely on mobile apps for convenience and personalized experiences. As the number of smartphone users continues to grow, mobile app engagement has become a crucial metric for businesses and developers before they invest in development costs.

This blog explores statistics related to mobile app engagement, best practices, and recommendations for business owners and marketers to best utilize mobile app features to include in their app development projects.

1. App Usage for Shopping
According to Exploding Topics, people use their phones 3 hours and 15 minutes a day on average.
This shows how much time users, including those who shop online, spend using mobile apps.

Millennials exhibit a remarkable channel-agnostic approach, effortlessly transitioning between online purchases (52%) and physical store visits (59%) on a weekly basis, according to a Retail Dive study.
Although this statistic, millennials value convenience, flexibility, and personalized options when it comes to their shopping habits.

Think with Google also shares several shopping app usage statistics:

63% of smartphone users are more likely to purchase from companies whose mobile sites or apps offer them relevant recommendations on products they may be interested in.
51% of smartphone users are more likely to use a company or brand's mobile app when browsing or shopping on a smartphone because they can get rewards or points.
58% of smartphone users feel more favorable toward companies whose mobile sites or apps remember who they are and their past behavior.
Shopping app best practices involve simplifying user experience, personalizing recommendations, optimizing performance, offering seamless payment options, leveraging push notifications, providing excellent customer support, and continuously improving based on user feedback and analytics. These practices enhance engagement, increase conversions, and provide a satisfying shopping experience.
2. App Abandonment Rate
According to RetailDive, smaller screen sizes cause higher abandonment rates for mobile users. The abandonment rate for mobile apps is upto 73.4 percent. If they are not optimized for speed, performance, design, adaptability, and usability, this can be higher.
Performance optimization is essential for mobile app developers and businesses to ensure that their apps load quickly, run smoothly, and offer a seamless user experience.
The difficulties that mobile users might encounter can also be resolved by designing apps with adaptability in mind. This enables them to adjust and display properly on different screen sizes and resolutions.
Developers can lower abandonment rates and increase user engagement and satisfaction by giving priority to these elements.

3. Push Notifications Impact
According to the data from Business of Apps, here are some statistics regarding the impact of push notifications:

Medium opt-in rates on Android devices are around 81%.
Showing that a significant percentage of Android users are willing to receive push notifications from apps.

Medium opt-in rates on iOS devices are approximately 51%.
Indicating a slightly lower opt-in rate compared to Android users. This is because Android devices automatically turn on push notifications.

Personalizing push notifications can result in improved reaction rates by up to 400%.
By tailoring notifications to the individual user's preferences, behavior, or demographics, businesses can increase user engagement and interaction with the app.
These figures demonstrate the potential value of push notifications in attracting users' attention and encouraging them to interact with mobile apps. To improve user experience, promote app usage, and increase overall engagement, businesses should think about implementing personalized and pertinent push notifications.

4. User Retention
Approximately 25% of users abandon an app within the first day and a staggering 72% within the first 30 days, as reported by Statista.
These statistics highlight the critical need for creating a seamless onboarding experience to capture users' interest and encourage continued usage.
To increase user retention, business owners and CMOs must implement personalization options to enhance user engagement and ownership. At the same time, strategically use push notifications with timely and relevant content to keep users informed and engaged. Encourage user feedback and implement ongoing engagement strategies like gamification, rewards, and regular updates to keep users interested and returning to the app.

5. App Store Ratings and Reviews
Here are some noteworthy facts based on Alchemer survey on app store ratings and reviews:

46% of respondents stated that the minimum average star rating they would consider acceptable when evaluating an app to download is 4-stars.
The users generally have high expectations for app ratings and are more likely to trust and download apps with positive ratings.

55% of respondents mentioned that a one or two-star app store rating of a well-known brand's app negatively impacts their view of the brand as a whole.
This shows the significant influence that app store ratings can have on the perception of a brand's reputation and credibility.

56% of people say a one or two-star app negatively impacts brand image.
Indicating that a low app store rating can have a significant negative impact on the overall perception of the brand by users.
The importance of maintaining ideal app store ratings and reviews is highlighted by these statistics. To increase their app's rating and reputation, app developers and businesses should work to produce high-quality apps, respond to user concerns quickly, and actively seek out user feedback. More downloads are attracted by positive app store reviews, which also help the brand's reputation overall.

6. App Uninstalls
App uninstalls are bad for businesses because they represent a loss of potential engagement, revenue, and user acquisition costs. Uninstall means that users have decided to stop using the app, resulting in missed opportunities for business growth.
Here are some notable statistics about app uninstalls.

Gaming apps had the highest uninstall rates, with 66% of users uninstalling them within 30 days after download.
This suggests the particular difficulty gaming apps face in retaining users for extended periods of time.

Additionally, CleverTap highlights that 28% of people uninstall apps due to too many ads and notifications.
Which means that intrusive notifications and excessive advertising may be to blame for user annoyance and app uninstalls.
These figures highlight how crucial it is to offer a satisfying and user-friendly experience within mobile apps. Developers can lower uninstall rates and increase user retention by reducing ads, adjusting notification frequency, and providing value to users. Knowing why users uninstall an app can help inform strategies for improving the app's usability and user satisfaction.

7. In-App Engagement Metrics
"Users tend to try out many apps but make a decision about which ones to stop using within the first 3-7 days."

Ankit Jain, the Head of Search & Discovery at Google Play
Here are some in-app engagement metrics statistics to have a look at:
A survey by App Annie found that on average, users spend about 3 hours and 40 minutes per day on mobile apps.
This highlights the substantial amount of time users spend using mobile apps, pointing out the potential for high app engagement.

The effectiveness of in-app chat and user engagement can vary depending on the specific app, target audience, and implementation, despite the fact that these statistics offer insightful information. To find the best methods for enhancing in-app engagement and user retention, app developers should evaluate their particular requirements and carry out extensive research.

8. App Personalization Impact:
66% of consumers say they will quit a brand if their experience isn't personalized.
The significant influence that personalized experiences have on client retention and loyalty. Businesses that don't offer personalized experiences run the risk of losing a sizeable portion of their clientele.

86% of consumers say that personalized experiences increase their loyalty to specific brands.
This statistic underlines the benefit of personalization in promoting greater client loyalty and advocacy. Customers become more connected to brands and are more likely to stick with them when they receive personalized experiences.

98% of consumers want brands to do more to guarantee the privacy of their data, as well as be more transparent about how their data is used.
Customers are becoming more concerned about data privacy and want businesses to treat their personal information with care. Maintaining customer trust requires establishing trust through stringent data privacy safeguards and open data usage guidelines.
Conclusion
These statistics point out how personalization in apps affects conversions, customer spending, and customer loyalty. Businesses can improve user engagement, user satisfaction, and ultimately drive better business outcomes by utilizing personalization strategies within apps.