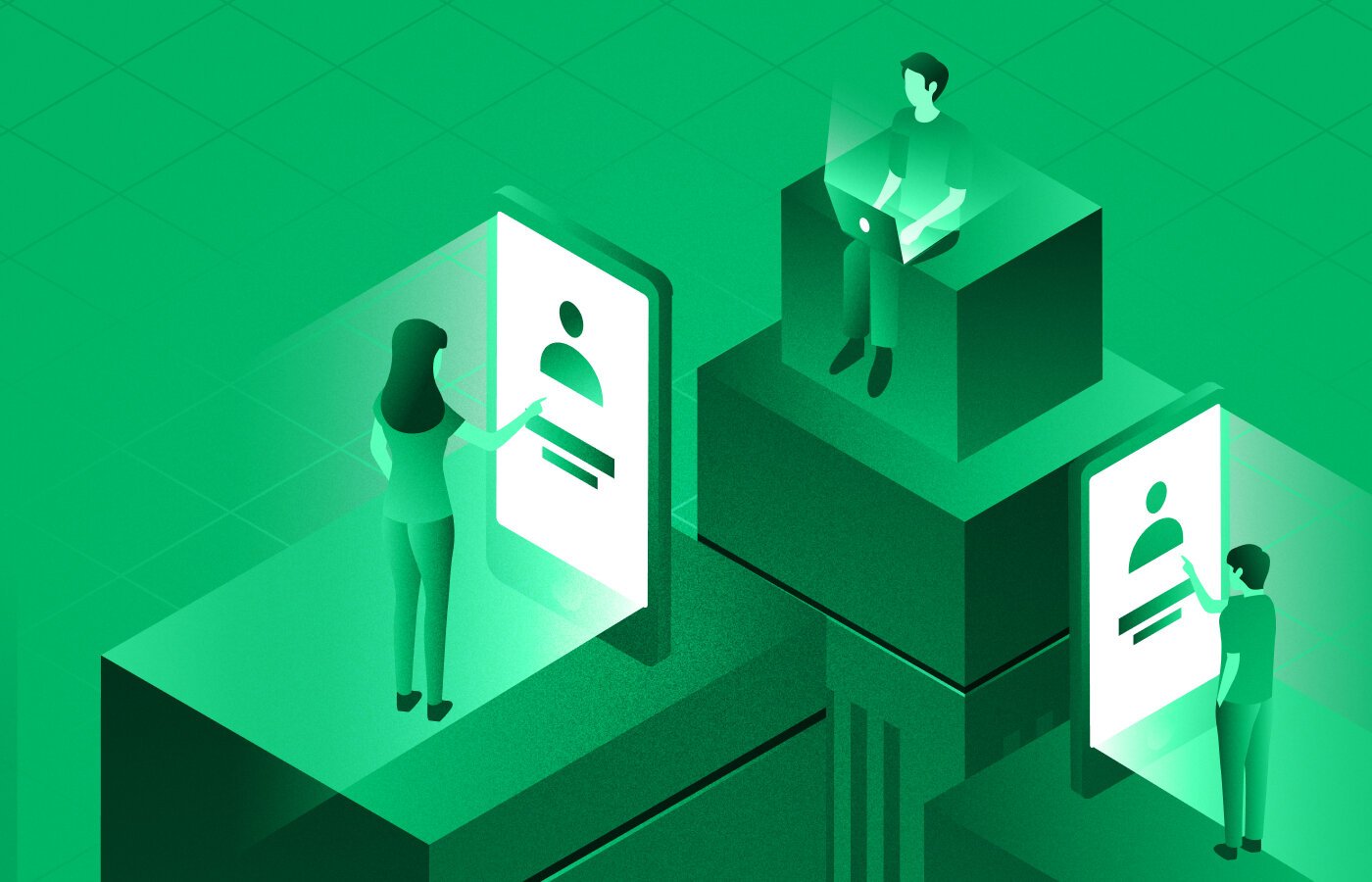 Enterprise software has become a vital tool for businesses looking to improve their operations, streamline processes, and find greater success in the rapidly changing digital landscape. The global ERP software market is forecasted to reach $78.40 billion by 2026, growing at a CAGR of 10.2% from 2019 to 2026.
These software programs, also referred to as business software or enterprise apps, are essential for enhancing productivity, customer satisfaction, efficiency, and decision-making.

The selection of enterprise software is becoming more crucial as businesses continue to invest in digital transformation. We will look at some of the best enterprise software categories in this context.

Understanding Different Types of Enterprise Apps
Enterprise apps and enterprise software, cater to various business needs and offer various functions and benefits. These include software for various functions like Business Process Management, Customer Relationship Management, Enterprise Resource Planning, Human Resources Management System, Business Intelligence, and Supply Chain Management drive success across operations.
Here's a look at them in detail:
1. Enterprise Resource Planning (ERP):
Function: ERP software streamlines core business processes, offering real-time visibility and data-driven insights for organizations.

Benefits: Improved efficiency, streamlined processes, reduced errors, enhanced collaboration, and informed decision-making.
2. Customer Relationship Management (CRM):
Function: CRM software streamlines customer interactions, sales leads, marketing campaigns, and service for personalized engagement.

Benefits: Strengthened customer relationships, increased sales productivity, improved customer satisfaction, targeted marketing efforts, and enhanced customer retention.
3. Business Intelligence (BI):
Function: BI software analyzes data to create reports, dashboards, and visualizations for business performance insights.
Benefits: Data-driven decision-making, identification of growth opportunities, improved operational efficiency, early detection of potential issues, and competitive advantage through better strategic planning.
4. Human Resource Management (HRM):
Function: HRM software streamlines HR processes like recruitment, onboarding, payroll, training, and benefits administration.

Benefits: Streamlined HR operations, improved employee engagement, enhanced talent management, accurate payroll processing, compliance with labor laws, and increased overall workforce productivity.
5. Supply Chain Management (SCM):
Function: SCM software streamlines goods and services flow, involving inventory management, order processing, and supplier collaboration.

Benefits: Efficient inventory control, reduced lead times, lower costs, enhanced supplier relationships, minimized stockouts, and improved customer satisfaction through timely deliveries.
6. Marketing Automation:
Function: Marketing automation software automates repetitive marketing tasks, such as email campaigns, social media posting, lead nurturing, and customer segmentation.

Benefits: Improved marketing efficiency, personalized customer engagement, lead generation and nurturing, enhanced conversion rates, and better marketing ROI.
7. Business Process Management (BPM):
Function: BPM software enables businesses to model, analyze, automate, and optimize their business processes. It helps eliminate bottlenecks, reduce manual work, and enhance overall process efficiency.

Benefits: Streamlined workflows, increased productivity, reduced operational costs, improved compliance, and more agile and adaptable business operations.
8. Knowledge Management:
Function: Knowledge management software facilitates the creation, sharing, organization, and retrieval of knowledge and information within an organization.

Benefits: Enhanced knowledge sharing and collaboration, improved decision-making, reduced duplication of efforts, faster problem-solving, and better innovation capabilities.
9. Content Management System (CMS):
Function: CMS software allows businesses to create, edit, organize, and publish digital content such as websites, blogs, and documentation.

Benefits: Simplified content creation and management, faster content updates, improved website maintenance, enhanced SEO, and consistent brand messaging.
10. Project Management:
Function: Project management software helps plan, execute, and monitor projects, enabling teams to collaborate, track progress, allocate resources, and meet deadlines effectively.

Benefits: Efficient project planning and execution, better team coordination, improved resource allocation, enhanced project visibility, and successful delivery of projects on time and within budget.
11. Business Process Automation:
Function: Business process automation software automates repetitive tasks and workflows across different departments, enhancing overall efficiency and reducing manual errors.

Benefits: Increased productivity, reduced operational costs, streamlined processes, minimized delays, and improved customer service.
Investing in enterprise apps that align with a business's needs and goals significantly impacts its success and competitiveness in the digital era. Each type offers unique benefits, but together, they create a well-optimized and agile business environment.

Best Enterprise App Examples
The top enterprise apps in the market offer unique features, benefits, and strengths to cater to diverse business needs. Selecting the right app depends on understanding the organization's goals, processes, and budget, and selecting the one that aligns with those needs.
ERP (Enterprise Resource Planning):
Oracle: Oracle offers a comprehensive suite of ERP solutions that cater to various industries and business sizes. Its ERP Cloud platform integrates finance, procurement, project management, human resources, and supply chain modules. Oracle stands out for its scalability, advanced analytics, and robust security features.

SAP: SAP is a global leader in ERP software, known for its SAP S/4HANA suite. It provides real-time data processing, simplified user interfaces, and intelligent automation capabilities. SAP's ERP solutions are renowned for their ability to handle complex business processes and support large enterprises.

Microsoft Dynamics 365: Microsoft's ERP offering, Dynamics 365 Finance and Operations, streamlines financial management, supply chain, manufacturing, and more. It integrates seamlessly with other Microsoft products and services, providing a familiar user experience and strong collaboration capabilities.

Sage: Sage offers ERP solutions tailored for small and medium-sized businesses. Sage Intacct, for instance, focuses on financial management, accounting, and reporting, while Sage X3 serves larger enterprises with multi-company and multi-country operations.
CRM (Customer Relationship Management):
Salesforce: Salesforce is a market-leading CRM platform known for its flexibility and extensive customization options. It provides a 360-degree view of customers, enabling personalized engagement, sales automation, and customer service management.

HubSpot: HubSpot offers a user-friendly CRM that integrates marketing, sales, and customer service features. Its all-in-one platform provides tools for email marketing, lead tracking, deal management, and customer feedback, making it a popular choice for small to medium-sized businesses.

Zoho CRM: Zoho CRM is a cost-effective solution with robust features like lead management, sales forecasting, workflow automation, and AI-driven insights. It is known for its ease of use and integration with other Zoho products.

Keap: Keap, formerly known as Infusionsoft, is an all-in-one CRM and marketing automation platform designed for small businesses. It streamlines lead management, email marketing, appointment scheduling, and invoicing.
BI (Business Intelligence):
Datapine: Datapine offers a cloud-based BI solution that focuses on data visualization and dashboard creation. It empowers users to gain actionable insights from their data without requiring extensive technical knowledge.

Domo: Domo is a modern BI platform that connects and consolidates data from various sources. Its intuitive interface and powerful data visualization capabilities enable real-time data analysis and informed decision-making.

Zoho Analytics: Zoho Analytics provides self-service BI and reporting features for businesses of all sizes. It allows users to create interactive dashboards, perform ad-hoc analysis, and collaborate on data insights.

Sisense: Sisense is known for its scalable and agile BI platform, capable of handling large datasets and complex analytics. It provides AI-driven analytics, data modeling, and embedded analytics for applications.
HRM (Human Resource Management):
Paycor: Paycor offers a comprehensive HR and payroll platform tailored for small and medium-sized businesses. It includes features like HRIS, timekeeping, benefits administration, and applicant tracking.

Workday: Workday is a cloud-based HRM software known for its user-friendly interface and robust workforce management capabilities. It covers HR, payroll, talent management, and analytics.

Monday.com: Monday.com is a versatile work operating system that extends beyond project management to include HR functions like onboarding, employee performance tracking, and team collaboration.

Freshteam: Freshteam is an applicant tracking and HR management system suitable for small businesses. It streamlines recruitment, employee onboarding, time-off management, and employee data management.
SCM (Supply Chain Management):
Blue Yonder (formerly JDA Software): Blue Yonder is a leading SCM solution that employs AI and machine learning to optimize supply chain planning and execution. It enables demand forecasting, inventory optimization, and transportation management.

Infor SCM: Infor offers a suite of SCM solutions catering to various industries. Its platform supports demand planning, warehouse management, logistics, and supplier collaboration.

Epicor ERP: Epicor's ERP system includes SCM capabilities with features like order management, inventory control, and procurement, enabling businesses to manage their supply chain more efficiently.

Logility: Logility is a cloud-based SCM solution with advanced analytics and forecasting tools. It helps businesses improve demand planning, inventory optimization, and supply chain visibility.
Marketing Automation:
Marketo (now part of Adobe Experience Cloud): Marketo is a robust marketing automation platform that allows businesses to automate lead nurturing, email marketing, and personalized customer engagement. It integrates with CRM systems for seamless data flow.

Drip: Drip is an e-commerce-focused marketing automation tool that offers personalized customer journeys, behavior-based automation, and advanced segmentation, helping businesses drive customer retention and conversion rates.

HubSpot (Marketing Hub): In addition to its CRM, HubSpot's Marketing Hub provides marketing automation capabilities, including email marketing, lead scoring, and social media scheduling, making it a popular choice for small to medium-sized businesses.

Keap (formerly Infusionsoft): Keap's marketing automation features include email marketing, lead capture forms, and follow-up sequences. It is designed for small businesses seeking to automate marketing tasks and nurture leads.
BPM (Business Process Management):
BPMApp: BPMApp is a cloud-based BPM software that allows organizations to design, automate, and optimize business processes. It offers a user-friendly interface and supports drag-and-drop process modeling.

Kissflow: Kissflow is a no-code BPM platform that enables organizations to automate workflows, track progress, and ensure compliance. Its intuitive interface makes it accessible to users with minimal technical expertise.

Jira (by Atlassian): Jira is primarily known for agile project management but also provides BPM capabilities with customizable workflows for business processes.

Nintex: Nintex is a powerful BPM and workflow automation platform that integrates with popular enterprise systems like SharePoint and Office 365. It enables businesses to automate repetitive tasks and improve process efficiency.
Knowledge Management:
Guru: Guru is a knowledge management platform that empowers teams to capture, organize, and share knowledge seamlessly. Its AI-powered features ensure that knowledge is always up-to-date and accessible.

Helpjuice: Helpjuice offers a knowledge base software that enables businesses to create and maintain a centralized knowledge repository. Its search and analytics features help improve self-service support for customers.

Confluence (by Atlassian): Confluence is a collaborative wiki tool that allows teams to create and share knowledge articles, documents, and project information, fostering better collaboration within the organization.

Document360: Document360 is a knowledge management software focused on creating user-friendly and interactive knowledge bases. It supports multiple languages and provides version control to keep information accurate.
CMS (Content Management System):
WordPress: WordPress is a widely used CMS that powers millions of websites. Its user-friendly interface, extensive plugin ecosystem, and customizable themes make it suitable for businesses of all sizes.

Shopify: Shopify is a popular CMS designed specifically for e-commerce businesses. It offers a comprehensive set of tools for online store creation, product management, and order processing.

Squarespace: Squarespace is known for its elegant and responsive website templates, making it an excellent choice for businesses that prioritize design and user experience.

Webflow: Webflow is a powerful CMS and website builder that offers a wide range of design and customization options, making it a favorite among web designers and developers.
Project Management:
Asana: Asana is a widely used project management tool that allows teams to plan, track, and manage tasks and projects. It offers various views, including boards, lists, and timelines, to suit different workflows.

ClickUp: ClickUp is a versatile project management platform that integrates task management, goal tracking, time tracking, and document sharing, making it a comprehensive solution for teams.

Monday.com: In addition to its HRM capabilities, Monday.com offers project management features with customizable boards, automations, and visual progress tracking.

Jira (by Atlassian): Jira is a popular project management and issue tracking software, particularly favored by software development teams for agile project management.
Business Process Automation:
IBM Automation Platform: IBM's automation platform offers a suite of tools for business process automation, robotic process automation (RPA), and decision automation. It supports a wide range of enterprise applications.

Pipefy: Pipefy is a no-code BPM and workflow automation platform, making it easy for businesses to automate processes without extensive technical expertise.

Kissflow: As mentioned earlier, Kissflow provides BPM capabilities along with workflow automation, making it an efficient choice for organizations seeking both functionalities.

Appian: Appian offers a low-code platform that combines BPM, RPA, and AI capabilities for end-to-end process automation and business transformation.
Choosing the Right Enterprise Software for Your Business
When choosing enterprise software for your business, consider factors like size, needs, budget, and goals to ensure efficiency, productivity, and overall success. Key considerations include:
Business Size and Complexity: Enterprise apps cater to businesses of varying sizes and complexities. SMEs can benefit from user-friendly, cost-effective solutions, while large enterprises need robust, integrated platforms for complex operations and multiple departments. Choose software that matches your organization's scale to avoid over- or under-investment in features.

Specific Business Needs: Identify your organization's pain points and needs, analyze existing processes, and identify critical functionalities for software. Understanding your priorities will help find relevant solutions for financial management, customer relationships, supply chain operations, and marketing efforts.

Budget Constraints: Setting a realistic budget for enterprise software is crucial, considering upfront costs, maintenance, training, and support expenses. Assessing return on investment (ROI) and software alignment with long-term business objectives is essential.

Scalability and Flexibility: Choose scalable software for business growth, accommodating increasing demands, user volumes, and data without disruptions. Ensure flexibility through customization and integrations with essential applications for seamless workflows across the tech stack.

User Friendliness and Training: Usability is crucial for software adoption and productivity. Choose intuitive interfaces for minimal training and easier onboarding. User-friendly software leads to higher adoption rates and reduced resistance to change within the organization.

Vendor Reputation and Support: Examine software vendor's reputation, track record, and customer reviews for reliable, secure, and well-supported solutions. Read testimonials to understand responsiveness and issue resolution.

Security and Compliance: Ensuring security is crucial for sensitive business data, so software must adhere to industry standards and best practices. Consider compliance requirements like GDPR or HIPAA and verify software support for compliance.

Integration Capabilities: Integrating software seamlessly with your tech stack is essential for a unified, efficient workflow. Check if the software offers APIs or pre-built integrations with essential tools like CRM, accounting, or productivity suites.

Trial and Testing: Utilize free trials or demos to test software's features in real-world settings, involving stakeholders and end-users to gather feedback and ensure software meets their needs.
Long-Term Support and Updates: Examine software vendor's commitment to ongoing support, updates, and improvements for secure, up-to-date, and compatible technology.

Selecting the right enterprise software is a strategic decision requiring evaluation of business requirements and future aspirations. Prioritize scalability, flexibility, and alignment with goals for successful implementation, enabling operational efficiency and long-term growth.

Conclusion
Enterprise apps are essential tools for modern businesses, streamlining processes, improving efficiency, and driving growth.
These tools, like ERP, CRM, BI, and SCM, enable data-driven decisions, optimization of operations, and customer experiences. HRM software attracts and retains top talent, while Marketing Automation solutions enable targeted marketing efforts.
Choosing the right enterprise software involves understanding the business's needs, goals, scalability, flexibility, and budget.
Embracing the transformative power of enterprise software allows businesses to optimize processes, foster innovation, and achieve long-term success. By investing in the right tools, businesses can unlock their full potential, streamline operations, and drive growth, positioning themselves as leaders in their industries.