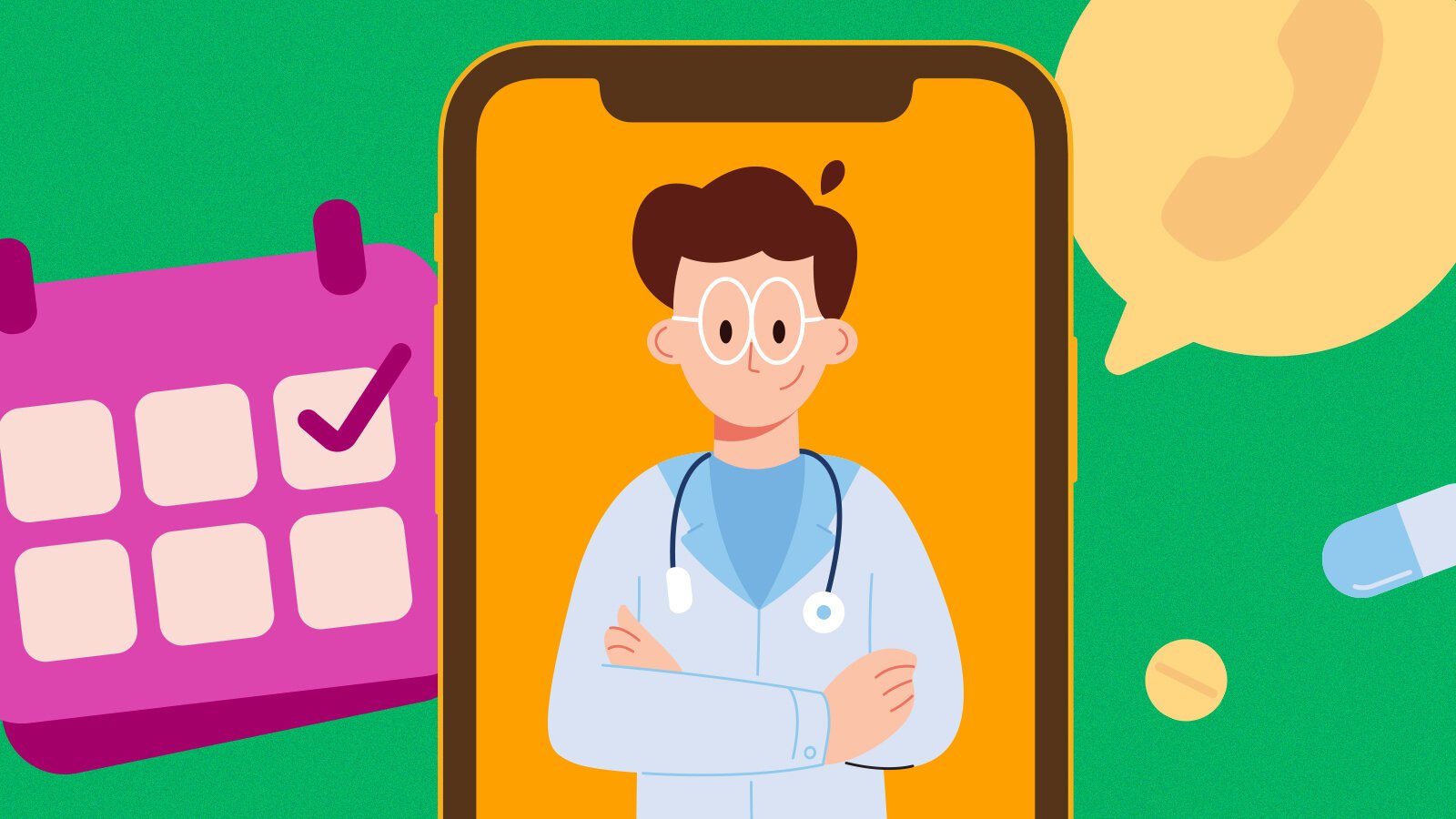 According to IQVIA Digital Health Trends Report 2021, more than 90,000 digital health apps were released in 2020. This accounts for an average of 250 apps being launched per day. Even the investments in digital health have been hitting record-breaking numbers. In Q1 2021, MobiHealthNews reported 99 digital health fundings worth $7.1 billion which for 2020's Q1 was $2.9 billion. The future of health is likely to be all about sophisticated tests being handled by tools through digital transformation, leading to diagnosis and patient care at home itself.
"Digital technologies offer the extraordinary potential to improve the health of all people around the world, reduce health inequities, close gender gaps, and protect the most vulnerable", says Co-Chair of the Commission, Professor Ilona Kickbusch from the Global Health Centre in Switzerland. Furthermore, statistics (Q2, 2022) show that around 60% of all web browsing in the world occurs on mobile devices. This explains why health apps will rise in the future of healthcare. Some of the best apps for patient care are as follows.

Best App Examples for Hospitals to Provide Optimal Care to Patients

1. Pepid
PEPID offers evidence-based clinical information and access to over 3k+ diseases and clinical conditions to medical professionals, helping them improve patient care. This app is used in 1,000 institutions across 159 countries, with the aim to have satisfied practitioners and better patient outcomes. Its unbiased drug database makes point-of-care reference materials instantly accessible to the medical staff.
Features & Benefits -

PEPID gives websites and systems an easy way to integrate clinical and drug information.

The drug information is bulleted and formatted for easy viewing on a small screen.

Users can access the CME credits at any point of care.

Doctors can access their favorites, notes, and history.

The app has HD radiographic images and illustrations, 3000+ medical calculators, pill identifiers, drug allergy checkers, quick links to get answers, handouts, and more.
Problems It Solves -

Clinical performance

Productivity

Patient Satisfaction

Content Update Automation
2. GetWell Rounds+
GetWell Rounds+ enables the healthcare staff to manage patient rounding anywhere, anytime, with the help of their smartphones. Apart from digital rounding, it is a reporting and real-time data collecting tool that aims to offer high-quality personalized patient care. It reduces documentation time and allows nurses to automatically triage tasks to departments; thanks to the real-time alerts and tracking that mitigates manual follow-ups.
Features & Benefits -

The app has an easy-to-implement and easy-to-use interface.

It offers real-time surveys, data collection forms, service recovery alerts, and customizable reports.

The app's trending dashboards equip care teams with immediate, actionable data to target improvement efforts in real-time.
It guides clinicians on what to talk about with best-practice templates.

It creates valuable insights through robust data collection and reporting.

It can be used anywhere on any mobile device.

The tool supports unlimited users, reports, dashboards, and alerts

The customizable platform it offers facilitates direct patient feedback.
Problems It Solves -

The efficiency of the staff.

Request allocations to specific teams.

Quality of clinician-patient interaction.

Documentation time.

Quality audits and safety checklists.
3. Doximity
Doximity helps healthcare professionals dial their patient's number and start a video/voice call or leave a voicemail from a no-reply number. This keeps their privacy intact since they don't have to share their cell phone number. In case the patient gets delayed when a healthcare professional starts a video call, they can hang up. The app will notify once the patient enters the video conference. Through this app, patients can be helped from anywhere, anytime in a faster and secure way.
Features & Benefits -
It offers simple & secure telemedicine tools free of cost, letting users call patients and set caller IDs.

Doximity offers the facility to conduct video visits (apart from video calls & voicemails) without patient login or download.

The app lets the users sign, date, and annotate documents.

Finding clinicians based on specialty, location, and clinical interests is easy with this app.

One can earn free Category 1 CME.

The app allows the users to send HIPAA secure faxes from anywhere.

It has its integration with Epic Haiku and Amion scheduling apps.
Problems It Solves -
Calling patients with personal numbers.

In-person meetings of doctors/physicians/etc with patients.
4. Juno powered by DSS Inc.

JunoProDash, JunoClinicalPictures & JunoRxTracker are apps by DSS Inc. that have a range of EHR-based mobile features. These are best for care coordination through interoperable workflows. They aim to improve patient care and safety via tools that help in care management, automatic billings, and scheduling

Features & Benefits -
The apps offer interoperable workflows that help in reducing administrative costs.

They provide automatic billing systems and scheduling tools.
Problems It Solves -

High administrative costs.

Haphazard care coordination.
5. CareAware, Cerner
This app uses intuitive technology to connect the right care team members with the right patients to promote effective communication. This collaboration happens via a smart, mobile device, leading to a streamlined bedside workflow. This includes medication administration, device association, and specimen collection.
Features & Benefits -
This app solves communication gaps within the care team.

It enables care team collaboration, nursing workflows, and event management.

It allocates the right healthcare professionals to patients as per needs and specialties, leading to better treatments.

It creates custom alerts and ringtones to quickly alert care team responders.

It promotes communication of sensitive information (PHI) between care team members in compliance with HIPAA.
Problems It Solves -
The time-consuming process of allocating the right care members to the patients.

Clinical communication inefficiencies.
6. Spok Mobile
The Spok mobile app is a messaging/alerting application used in the health industry for better clinical care and communication. The providers get to know the status of their messages as they receive "delivered/read" updates. Not just this, the providers can even prioritize certain messages and share the same securely with the staff.
Features & Benefits -

The app offers easy integration with current EHR systems.

It eases hospital-wide scheduling.

Providers can access the app from their preferred devices - smartphones, pagers, watches, and more.

The app simplifies communications and strengthens care.

It promotes easy messaging regarding code alerts, patient updates, test results, and more.

One can even send videos and pictures in the text.

Problems It Solves -

Easy, secure, and fast communications regarding patient consults.

Scheduling duties of the care team.
7. Figure1
Figure1 is a photo and knowledge-sharing app for healthcare professionals that is successfully being used in 190+ countries and has over 180 specialists. The app makes it possible for millions of medical practitioners to view, share, and discuss real-world patient cases. This helps them have a feedback/perspective which leads to better patient diagnosis, treatment, and outcomes globally.
Features & Benefits -
The application has the world's largest medical community that consists of healthcare experts from over 185 specialists.

Doctors can share complicated patient cases and ask for suggestions, feedback, and insights for better treatment.

The app keeps the medical professionals updated with the medicine and provides better patient diagnosis & treatment.

The app allows easy case collaboration, quick quizzes, and effective CME to test the knowledge of the community.
Problems It Solves -
Undiagnosed patient cases.

Pressure on one person to solve the case.
While these apps have proved to be a boon for the health industry, Accenture finds that providers pursuing mobile patient engagement are failing. That's due to the poor user experience and functionality of the apps. However, if the app functionality aligns well with patient needs, it has the potential of saving the U.S. healthcare system alone close to $7 billion per year.