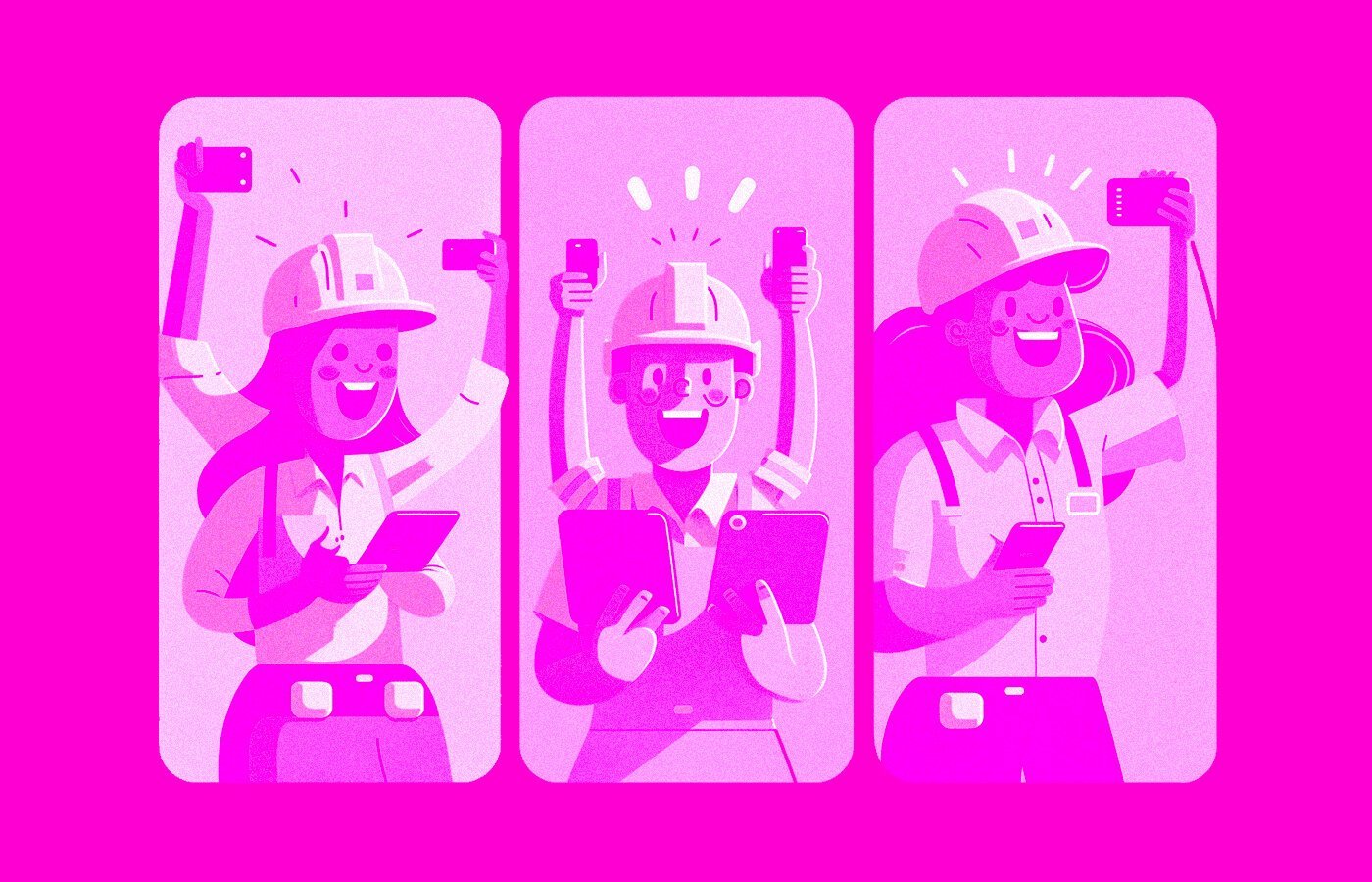 Mobile Enterprise Application Market size was valued at USD 90.53 Billion in 2021 and is projected to reach USD 268.14 Billion by 2030, growing at a CAGR of 15.25% from 2022 to 2030. Enterprise mobile app adoption has been highest in industries such as healthcare, finance, and retail.
Overall, the statistics suggest that the use of enterprise mobile apps has been steadily increasing and is becoming more central to businesses across multiple industries.

Benefits of mobile apps in digital transformation process
Mobile apps play a significant role in the digital transformation process of organizations. Here are some benefits of mobile apps in digital transformation:
Mobile apps make it easier for employees to communicate and collaborate with each other, regardless of their location. It enables employees to stay connected and work together in real-time, which helps to improve teamwork and productivity.

2. Improved customer experience
Mobile apps provide an excellent user experience and make it easier for customers to interact with businesses. It enables businesses to reach out to their customers anytime, anywhere, and offer personalized experiences.

3. Increased employee productivity
Mobile apps provide employees with real-time access to information, which helps to increase their efficiency and productivity. Employees can perform their tasks more quickly and accurately, and businesses can save time and money by streamlining their operations.

4. Enhanced data collection and analysis
Mobile apps can collect and analyze large amounts of data, which helps businesses to make informed decisions. It enables businesses to gather information about their customers, products, and services, and use this data to improve their operations.

5. Cost savings
Mobile apps can help businesses save costs by reducing paperwork, improving productivity, reducing communication costs, automating tasks, and reducing training costs. By taking advantage of mobile app technology, businesses can operate more efficiently and effectively, leading to cost savings in the long run.
In short, mobile apps are essential for businesses looking to undergo a successful digital transformation. They offer numerous benefits that can help businesses to improve their operations, enhance their customer experience, and stay ahead of the competition.

Use cases of mobile apps in different industries
1. Healthcare
Mobile apps can be used in healthcare to improve patient care and enhance communication between patients and healthcare providers. For example, they can be used to schedule appointments, provide patients with medical advice, and track patient health data. Here are some use cases of mobile apps in automotive healthcare:

Remote monitoring: Enables remote monitoring of vital signs and symptoms, allowing to track patient health and provide timely interventions.

Appointment scheduling: Allows patients to schedule appointments with healthcare providers, receive reminders, and even conduct virtual visits.

Medication management: Provides patients with medication reminders, track medication use, and alert healthcare providers of missed doses or potential drug interactions.

Health tracking: Allows patients to track their health and fitness goals, including diet, exercise, and sleep patterns, and share this information with their healthcare provider.

Patient education: Provides patients with educational resources about their condition, treatment options, and ways to improve their health.

Medical record access: Gives patients access to their medical records, allowing them to review test results, track progress, and communicate with their healthcare provider.

Care coordination: Helps coordinate care between different healthcare providers, ensuring that patients receive seamless and integrated care.
2. Automotive retail
Mobile apps in retail can be used for a range of purposes, including mobile commerce, loyalty programs, and personalized promotions. Automotive Retailers can use mobile apps to offer customers an engaging and seamless shopping experience, while also collecting data that can help improve their operations. Here are some use cases of mobile apps in automotive retail:

Inventory search: To browse and search for available inventory, which helps them find the vehicle they want to purchase.

Test drive scheduling: Allows customers to schedule test drives with the dealership.

Financing and leasing: Provides customers with financing and leasing options, allowing them to calculate monthly payments, apply for credit, and even submit required documents from their mobile device.

Service and maintenance: Allows customers to schedule service appointments and receive notifications for regular maintenance, like oil changes and tire rotations.

Vehicle history: Provides customers with access to the vehicle history, including previous ownership, maintenance records, and accident reports.

Loyalty programs: Offers loyalty programs, providing customers with exclusive benefits such as discounts on parts, accessories, and service.

Augmented reality (AR) features: Allows customers to view vehicles in a 360-degree environment, customize features like color and interior, and even "test drive" vehicles without leaving their home.
3. Aviation
Mobile apps have become an essential tool for the aviation industry, providing a range of benefits to airlines, airports, and passengers. There are two ways the aviation industry is benefiting from mobile apps.
Passenger apps:

Flight Information and Check-in: To provide their customers with real-time flight information, including gate information, departure and arrival times, and delays through mobile apps. Passengers can also use mobile apps to check-in for their flights.

Baggage Tracking: Track checked baggage throughout the journey.

Loyalty Programs: To offer loyalty programs and incentives to their frequent flyers.

In-Flight Entertainment and Services: Movies, TV shows, games,food and beverage orders.

Airport Navigation and Services: To provide airport maps and navigation, helping passengers to find their way around the airport.
Internal Operations:

Maintenance and Repair: To streamline maintenance and repair operations, enabling maintenance personnel to access information, reducing the downtime of aircraft and improving the efficiency of maintenance operations.

Inventory Management: Enabling airlines to track inventory levels, manage procurement, and improve the accuracy of inventory records.

Crew Management: To manage crew schedules.

Fuel Management: Manage fuel consumption and optimize fuel efficiency, helping airlines to reduce fuel costs and minimize their environmental impact.

Cargo and Ground Handling: They can help manage cargo and ground handling operations.
4. Real estate
Enterprise mobile apps have revolutionized the real estate industry, providing a range of benefits to buyers, sellers, agents, and developers. Here are some use cases of mobile apps in real estate:
Property Search: search for properties, enabling buyers to view properties on their mobile devices, receive alerts when new properties become available.
Virtual Property Tours: Enabling buyers to view properties in 3D, explore floor plans, and get a sense of the property's layout and design.
Property Management: Manage rental properties, enabling landlords to track rent payments, manage maintenance requests, and communicate with tenants.
Real Estate Analytics: To provide real estate analytics, enabling agents, developers, and investors to access market data, track trends.
Communication and Collaboration: To improve communication and collaboration between buyers, sellers, agents, and developers and manage the entire real estate process on their mobile devices.
Integrating advanced technologies such as AI, AR, and data analytics within a mobile app can provide significant benefits to the real estate industry, from improved customer experience to enhanced decision-making and cost reduction. By leveraging these technologies, real estate businesses can stay ahead of the competition and deliver better value to their customers.

5. Government
Mobile apps have transformed the way governments interact with citizens and manage their operations. Here are some use cases of mobile apps in government operations-
Citizen-Facing Apps:

Service Delivery: Paying taxes, registering for licenses, and requesting permits.

Public Safety: Emergency alerts, traffic updates, and crime reports.

Citizen Engagement: Surveys, feedback, and community forums.

Health and Social Services: Booking appointments, accessing medical records, and receiving alerts about public health risks.
Enterprise Apps:

Workforce Management: Scheduling, attendance, and task allocation.

Field Operations: Inspections, surveys, and asset management.

Data Collection and Analytics: Monitoring service delivery, citizen feedback, and resource utilization.

Document Management: Contracts, policies, and procedures.
6. Logistics
Mobile apps in transportation and logistics can be used for real-time tracking of shipments, route optimization, and fleet management. Mobile apps can help businesses to optimize their operations and improve their customer service. Here are some use cases of mobile apps in logistics:

Shipment tracking: Allows customers to track their shipments in real-time, providing visibility into the status and location of their goods.

Delivery notifications: Sends customers automated delivery notifications, allowing them to plan and prepare for the arrival of their shipment.

Electronic proof of delivery: Enables drivers to capture electronic proof of delivery, including signatures, photos, and notes, reducing the need for paper documentation.

Inventory management: Allows warehouse managers to track inventory levels, manage stock levels, and receive alerts when inventory falls below a certain level.

Route optimization: Helps drivers optimize their routes, reducing travel time and fuel costs, and improving delivery efficiency.

Customer service: Provides customers with access to customer service representatives, enabling them to resolve issues, track shipments, and receive support.

Analytics and reporting: Provides managers with real-time data and analytics, allowing them to make informed decisions about fleet operations, inventory management, and customer service.
Summing Up
Mobile apps can provide a range of benefits such as improving customer engagement, increasing operational efficiency, and integrating with traditional processes. Mobile apps can be an important part of a digital transformation strategy, but they need to be developed with a clear understanding of the business goals and customer needs to maximize their impact.